Can Someone Please Tell Eminem It's Not The Year 2000?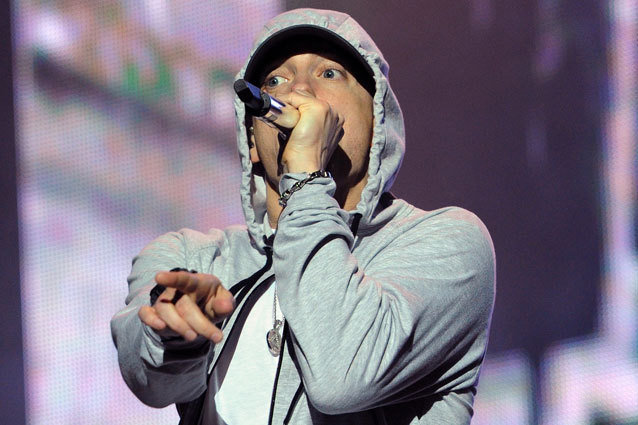 WENN
When asked what most excited him about his new album during his hopelessly awkward live interview on ESPN, a hopelessly zoned-out Eminem replied 'nothing.' Judging by the two tracks which have been unveiled so far, his lack of enthusiasm for the record will be shared by many.
For after appearing to have finally matured with 2010's introspective Recovery, the 41-year-old now disappointingly seems to have regressed back to the kind of cheap pot-shots at easy target celebrities and casual homophobia that defined his cartoonish beginnings.
Whereas rap's enfant terrible could get away with such tactics on his 2000 sophomore, his 2013 official follow-up, The Marshall Mathers LP 2, arrives in an era when the likes of Kanye West and Jay-Z have upped the ante for blockbuster hip-hop and Macklemore & Ryan Lewis are arguing the case for gay rights.
His new single, "Rap God," therefore, sounds entirely out of place in today's landscape. Indeed, his rapid-fire delivery, apparently four words per second, may be impressive but its content is anything but, whether it's the boasts about how he'd like to "break a mother****r's table over the back of a couple of f***ots" or the second verse's sustained riff on 'gay boys.'
Of, course his legion of fans have been quick to argue that the homophobia displayed is in fact from the viewpoint of his Slim Shady persona and not Eminem himself, but such a shaky defence hardly makes all the troubling imagery suddenly seem perfectly acceptable.
His previous release, "Berzerk," might not have been as overtly offensive but despite the presence of producer Rick Rubin on board, it was easily just as lazy, relying on a well-worn Billy Squier sample and playground insults towards Z-list celebs that bordered on the embarrassing. Seriously, could he have chosen any celebrity victims more obvious than Khloe Kardashian and Kevin Federline?
Arguably the most depressing aspect of Eminem's early '00s revival is just how many people are falling for it. "Berzerk" peaked at No.3 on the U.S. Hot 100 while much of the music press have bizarrely been falling over itself to declare "Rap God" as some kind of return-to-form masterpiece.
The Marshall Mathers 2 LP, therefore, will inevitably follow in the multi-million selling footsteps of its predecessor. But it still doesn't change the fact that Eminem currently appears to be stuck in some kind of early '00s time warp.
Follow @Hollywood_com