Canadian Justin Bieber Surely Knows How to Play Hockey, Right?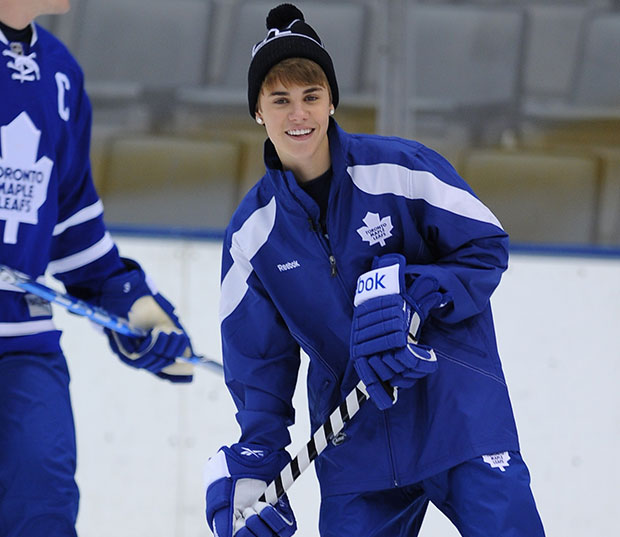 The whole world knows that when Justin Bieber is handed a mic, he surely won't let any of his fans down. But what happens outside the music arena? Does Bieber have talents that could warrant him a career away from his pop vocals? Well, if Bieber feels up to putting on some pads and stepping out onto the ice, a National Hockey League farm team has offered him a position.
A what? Yes, you read that correctly. Bieber is Canadian after all — and well, it's safe to say that he has had some experience on the ice before (in December, he stepped out to shoot a few pucks with pro team, the Toronto Maple Leafs). "Very rarely do you see this combination of skill and toughness," Bakersfield Condors Head Coach/Director of Hockey Operations Matt O'Dette says in a statement to E!. "We share a common Canadian heritage since we both hail from Ontario."
"I've scouted some video of him online skating with my hometown team, the Toronto Maple Leafs, and I think he could provide some elusive speed up front for us," O'Dette adds. "Plus, he's a right-handed shot, which we've been looking to add. I think if we paired him on a line with [Robby] Dee and [Peter] Boyd we'd be tough to beat."
If Bieber does decide to take this minor league team up on its offer, at least he won't have to worry about picking out a theme song for when he steps out on the ice. Can't you just hear "Baby, baby, baby" playing on repeat throughout a whole game? While for the older generation this song might get tiring, the Beliebers just can't get enough of 18-year-old pop sensation's sweet voice. Talk about a built-in fan base. The Beliebers would put the Mighty Ducks' cheering squads to shame.
Follow Lindsey on Twitter @LDiMat.
[Photo Credit: George Pimentel/WireImage]
More:
Justin Bieber, Lady Gaga, and Chad Ochocinco Get Inked — PICS
Justin Bieber and Carly Rae Jepsen's Very Unlikely Duet — LISTEN
Bad Idea? Justin Bieber Poses with a Gun
From Our Partners:

Blake Lively Talks Life with Ryan Reynolds in 'Allure': "I've Never Been Happier" — PHOTOS
(Celebuzz)

(Celebuzz)