Carey Mulligan Marries Mumford & Sons Singer: 5 Things to Know About Him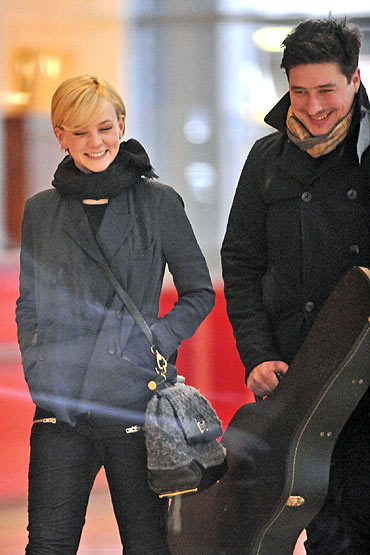 Drive and Shame star Carey Mulligan, 26, married Mumford & Sons singer Marcus Mumford, 24, Saturday in Somerset, England after a whirlwind courtship. The couple met only eight months ago, while Mulligan was attending one of the band's US concerts. Within a matter of months Shia LeBeouf's ex had moved in with her new beau, and after five months of dating had accepted his proposal. It all happened so fast we feel like we don't really know the Oscar nominee's new main man. 
Here are five things to know about him:
1. He's multi-talented
Not only is he the lead singer of the band, but he also plays the guitar, drums, and mandolin.
2. His band is not comprised of any family members
Even though his Grammy-nominated band is called Mumford & Sons, none of the members are actually related. The name came about because Marcus was the most known member of the group at the time.
3. He likes to write more than just songs
Both Mulligan and Mumford grew up in London and were childhood pen pals. (Is this like a Nicholas Sparks movie, or what?). But it wasn't until they were adults when they reconnected — he invited her to one of his Nashville shows and she came, with her friend Jake Gyllenhaal. 
4. He's an American
Mumford moved to England with his family when he was 6 months old, as both of his parents were from the U.K. originally. But he was born in California.
5. He's had a busy social life
A little more than a year before his wedding to Mulligan he was dating someone else, fellow musician and Brit, Laura Marling. He started his career playing drums on her tour.
Carey Mulligan Lines Up Two Big Projects
Mulligan to Play Doolittle in My Fair Lady?