Casey Anthony is Reading 'The Hunger Games': Ready, Aim, Fire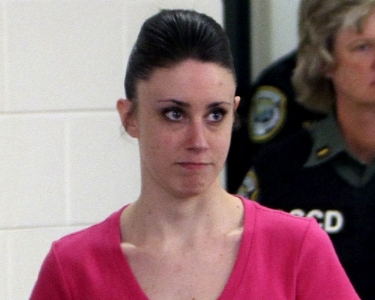 On the first stop of her Seeking Penance from the Public Tour, Casey Anthony, who was acquitted in the murder trial of her 2-year-old daughter Caylee, called into CNN's Piers Morgan Tonight to maintain her innocence and attempt to convince everyone she's not as bad as they think she is. 
In the 10-minute chat, Anthony gave some choice sound bites, like when she told host
Piers Morgan
that she is "ashamed in many ways of the person I was" and that terribly-cryptic-sounding-out-of-context "[Caylee was] my greatest accomplishment." But one that particularly stood out was when Anthony's lawyer informed Morgan that she's in the midst of reading
The Hunger Games
series. 
Anthony's lawyer assured she is reading them because they are popular "like
Harry Potter
," the fact that it was revealed on television that an accused child murderer and future subject of a
Lifetime movie
is reading books in which a major plot point involves the brutal and graphic killing of children would give only Caeser Flickerman some sick delight regarding that revelation. 
While Anthony's association with Suzanne Collins' beloved Dystopian saga won't likely have any negative impact on the series (OJ Simpson could have read Twilight and Twihards probably would have been most concerned about which "Team" he was on) the news probably won't do Anthony any favors. In fact, if Anthony is spending her days reading The Hunger Games and watching Shutter Island on Netflix, she may not want to publicize it. Though that would make for one heck of a scene in the Lifetime movie. Caeser Flickerman would have to agree. 
[Photo credit: AP Photo/Red Huber]
More: