Celebrities Respond to the Woody Allen Sex Abuse Scandal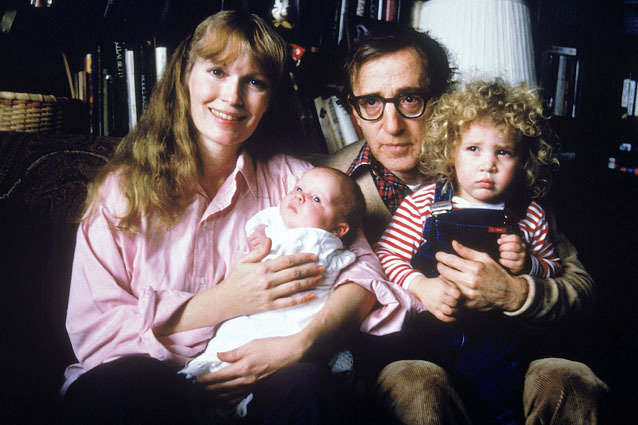 Getty Images
The sex abuse scandal concerning Woody Allen and his daughter Dylan Farrow has taken hold of the cinematic conversation lately, and left us grappling with many questions. There are many different interpretations and responses to Farrow's open letter (which can be read in full here on The New York Times site), in which she detailed the alleged sexual abuse she suffered at the hands of her father. It is important to note that, like most adopted children, Farrow does not reference Allen as her "adoptive" parent — he is simply her father, and the description she shares is nothing short of horrifying and heartbreaking.
What is, perhaps, most shocking or compelling about the piece is the final paragraph, in which she calls out specific actors who have recently worked with her father:
"What if it had been your child, Cate Blanchett? Louis CK? Alec Baldwin? What if it had been you, Emma Stone? Or you, Scarlett Johansson? You knew me when I was a little girl, Diane Keaton. Have you forgotten me?"
With the publication of such a powerful work, Hollywood could no longer pretend the accusations had never happened. Lena Dunham was one of the first celebrities to speak out, taking to Twitter to voice her support:
To share in this way is courageous, powerful and generous. Please read: http://t.co/RKKREFB8hM

— Lena Dunham (@lenadunham) February 1, 2014
Soon after, Cate Blanchett — one of the artists named by Farrow — also spoke out, but her response was far more PC than Dunham's: "It's obviously been a long and painful situation for the family and I hope they find some sort of resolution and peace." Some people felt that Blanchett's response was too PC, a cop-out, in fact. Was she, like much of Hollywood, trying to avoid taking an actual stance on the matter because of her professional relationship with Allen? She's up for an Oscar for her performance in Allen's latest film, Blue Jasmine. Did that have something to do with it?
Others felt that Blanchett responded appropriately. What could she really say, especially having just worked with Allen? And others have argued that Farrow was wrong to call out the actors in the first place. It could be said that she placed blame on innocent parties for the alleged actions of her father. You could argue that she involved people who have no business in the matter. According to Alec Baldwin, that's exactly what she did: "What the f–k is wrong w u that u think we all need to b commenting on this family's personal struggle?" This tweet (and some others that followed) has since been deleted.
Bloggers the world over are weighing in their personal thoughts on the matter, and at least one blog in particular has tried to collect all of the most pertinent facts in one place for their readers. Some of us believe we will never know the truth, and can, therefore, watch any Woody Allen flick guilt-free. Some of us felt so strongly about the words in Farrow's letter, her description of the abuse and the childhood memories tainted by this relationship with her father, that we cannot watch another one of Woody Allen's masterpieces without thinking of Farrow and the signifcance of something as simple as a train set in an attic. Others cry out in defense of Allen, and lash out at these supposed liars (the Farrows), while others have vowed to never watch another one of his works again.
All of this raises, among many other issues (like those concerning sex abuse and victim-blaming), the ever-important question of the artist's relationship to his or her art. If you believe the allegations — or even think, for a second that they might be true — is it possible to take the Woody Allen out of Manhattan? Or Annie Hall? Or Midnight In Paris? One could ask the same thing about Roman Polanski and The Pianist, or Carnage. And what of Michael Jackson and R. Kelly? And the many other artists who have been accused of the most egregious crimes — what of them and their work? Right now, many of are asking these questions, and although we may not soon find an answer — and although many of us are not even on the same page — one can at least appreciate the fact that these conversations are taking place, and people are feeling compelled to speak out on all sides. If nothing else, it may inspire those inclined to stay silent in the face of abuse and other adversities to speak up and share their stories.
Follow @Hollywood_com Follow @shannonmhouston