Celebrate Eminem's 40th Birthday With 22 Things That Are As Old As He Is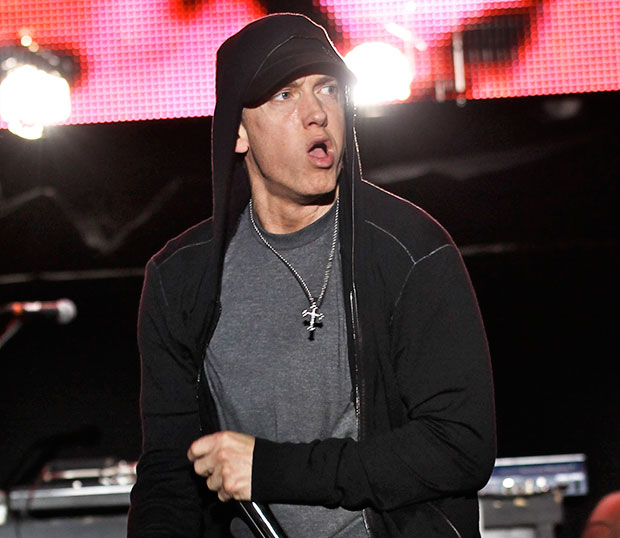 You may need to give the real Slim Shady just a little more time to stand up: He's officially over the hill at age 40. I know, I know. That's crazy. But math doesn't lie and Marshall Mathers was born Oct. 17, 1972 in Missouri. That means
Eminem
is 40. Mind. Blown.
His mature age is certainly going to make any performances of "The Real Slim Shady" feel just a little off and it gives a whole new meaning to this agist passage: "'Cause at the rate I'm goin' when I'm thirty/ I'll be the only person in the nursin' home flirting/ Pinchin' nurses' asses when I'm j***in off with Jergens." Where's your walker, Mr. Mathers?
If this fun little fact didn't blow your mind sufficiently, we've gathered a list of people and things who have also celebrated their 40th birthdays this year:
HBO
The Transamerica Building
Atari
The Clean Water Act
Ziggy Stardust by David Bowie
Snapple
The series finale of Bewitched
Carnival Cruises
The Eagles
George Carlin's "Seven Words You Can Never Say on Television"
The Miami Dolphins
Nerf Basketball
"Hey, Mikey! He likes it!"
Wil Wheaton
The Godfather
"School's Out" by Alice Cooper
The Price is Right*
The Egg McMuffin
The Joy of Sex
The Watergate Scandal
Miss Frisby and the Rats of NIMH
Pong
That's right, in the same year as little Marshall took his first breath, Jack Woltz woke up to find a horse head in his bed and Richard Nixon began his descent into crook territory. Crazy.  
*The "new" Price is Right reboot with Bob Barker launched in 1972.
Follow Kelsea on Twitter @KelseaStahler
[Photo Credit: Owen Beiny/WENN]
More:
Happy Birthday, Harrison Ford, But I Reject the Fact That You're 70
Happy Birthday, Steven Tyler! Joe Perry Stops by 'American Idol'
Happy Birthday, Dr. Seuss! His Best Works
From Our Partners:

'Twilight' Star Kristen Stewart Drops 2.2M on L.A. Home Near Robert Pattinson — PHOTOS
(Celebuzz)

Rihanna to Earn $8 Million for Turning on Christmas Lights: 14 Celebrity Appearance Fees Revealed
(Celebuzz)