Celebrating RuPaul, the First Gay Media Mogul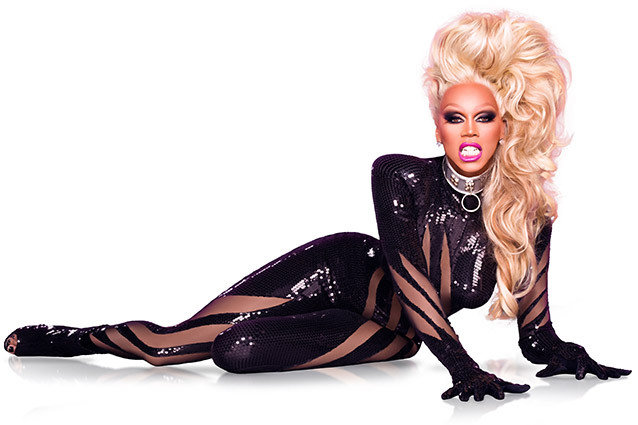 Logo TV
Yes, Elton John is filthy rich and Andy Cohen has defined Bravo's success. But RuPaul is the only person who can be considered the first gay media mogul. RuPaul Charles has not only paved the way for drag queens, he has been a great representative of the black and gay communities on the whole. He has touched every aspect of media from television to movies to books to music. Plus, it's tough to find anyone who has a better handle on brand synergy.
RuPaul has consistently stayed in the public eye since his dance track "Supermodel of the World" became an international dance hit. He started performing in a public access show produced by World of Wonder. They both have grown and taken over the Logo Network and created a legion of drag celebrities.
Trailblazer
RuPaul is full of firsts. He's not the first drag queen, but he is the first to turn his drag persona into a star. He is a fashion model, a pop singer, and a songwriter. He has notable television appearances and major blockbusters on his resume, and produced his own feature Starrbooty. He can conquer comedy and drama outside of drag as proven by his roles in But I'm a Cheerleader and Red Ribbon Blues, respectively. He has also used the success of Drag Race to bring drag culture to the masses and touch on major issues for the LGBT community like HIV and the distinction between being a transgendered woman and a drag queen.
Media Personality
RuPaul is media savvy. Besides his long list of television and movie credits he has made a name for himself as a celebrity. He hosted his own talk show on VH1 in the 1990s. He also was a major morning radio personality for New York City station WKTU (which was also one of Whoopi Goldberg's post-Oscar/pre-View jobs). His appearance on The Arsenio Hall Show was major in opening up America's eyes to drag queens, gay men, and the distinct difference. He released an autobiography Lettin It All Hang Out , which he timed with an appearance on All My Children. He has also been a spokesperson for major brands like Absolut Vodka and Mac Cosmetics.
Money Machine
RuPaul's "shameless" self-promotion is a running joke on Drag Race , but he is smart. The bulk of the music on the show is his iTunes library of songs, remixes, and albums. He has spun-off RuPaul's Drag Race into an All-Stars season, Untucked a half-hour reality drama-fest, and Drag U a show targeting the huge female fan demographic. He has partnered with brands to make a brand of cosmetics, a line of shoes, and he has released his own perfume Glamazon, which is also a song available on iTunes. His products and music are cross-promoted both on the suite of shows and by his drag nation's various club performances.
RuPaul's net worth was estimated at 4 million dollars in 2009 by various dubious websites. But given his licensing deals, residuals on his series and music, and the potential for other major projects it seems like major growth is on the horizon. Already, Drag Race alum Sharon Needles has conquered the iTunes music charts and Jinkx Monsoon has had a successful Broadway run. Watch out, Oprah, RuPaul is on your tail. And not tea no shade, but at least he has managed to create television shows that draw viewers to a network.