Celebrities That Need to Disappear Now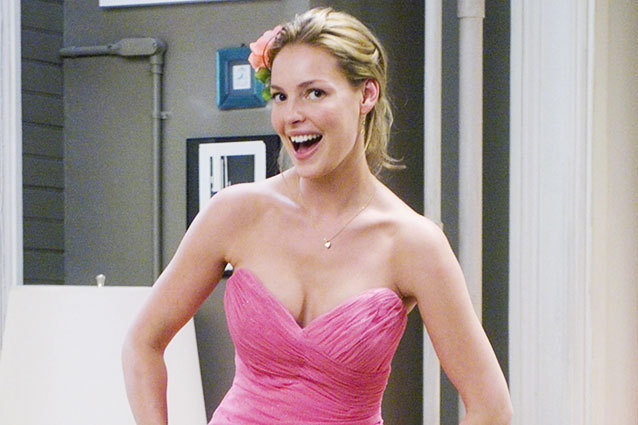 20th Century Fox via Everett Collection
Celebrities are always treading a fine line between being overexposed and off the radar, with most of them rarely striking a balance. The box office can be fickle, and their public persona plays an equal if not major part in their likeability index. Could you imagine if Anne Hathaway played Katniss in the Hunger Games instead of Jennifer Lawrence? Something tells us falling down at the Oscars wouldn't be so endearing. That being said, here is a shortlist of actors and actresses who need to take a break in Cabo for a while, or recede from our eyeballs completely.
Katherine Heigl
Katherine Heigl is the equivalent of a framed stock photo insert. Blond hair and a bright smile groups her in as one of Hollywood's pretty people, but her acting and personality are instantly forgettable. Slap a bridesmaid dress or a gun holster to her, it's all the same. With a rock-solid reputation of being a pain in the ass, she's already been replaced in a number of film roles, but recently announced her triumphant return to television in an NBC pilot where she'll play a "maverick CIA officer." Just what we needed, another Covert Affairs.
Vin Diesel
How did Vin Diesel manage to stay famous, with "famous" being a relative term, you might ask? We need the living embodiment of Shrek to carry the Pitch Black franchise and continue to sell flashy sports cars in the seventh (7?!) edition of Fast and Annoyed. Teaming up with another actor who we'd like to ship back to Ireland (Gerald Butler), he's slated to star in the film adaptation of the hit action video game Kane & Lynch. How many bald, raspy-voiced action stars do we need? Just keep letting Jason Statham do his thing; he works a suit better than most of them anyway.
Kristen Stewart
Acting is exhausting, or at least that's what Kristen Stewart's face seems to convey in every role she plays. While her pubescent angst worked in her favor for a while, it starts to wear thin after so many roles. You hear more about her tumultuous relationship with Twilight co-star Robert Pattinson than you do about her work, so maybe it's time to lay low girl. With plans to reunite with her Adventureland co-star Jesse Eisenberg and a sequel to Snow White and the Huntsman underway, Stewart has no plans of taking it easy.
Vince Vaughn
It's no wonder we bemoan the current state of romantic comedies with schlubby man-children as our leading men. As part of this particular subset, Vince Vaughn has graduated from slacker lead, to slacker lead with children. He's the Tom Hanks of subpar comedies, playing the same role ad nauseam without Spielberg and good material to back him up. Even Richard Ayoade couldn't save The Watch. We love Vaughn in an ensemble comedy like Anchorman or darkly sardonic in Wedding Crashers and Swingers, but what we can't take is more dead fish rom-coms, which Delivery Man is shaping up to be. It's time to follow in Matthew McConaughey's footsteps and pick offbeat roles or step aside for more interesting actors.
Other honorable mentions include: Seth Rogen, Jessica Alba, Shia LaBeouf and those Hemsworth brothers we can't tell apart.