Celebrities Who Became More Famous Than Their Exes
Kristen Stewart & Michael Angarano
Now, it's hard to picture Kristen Stewart without Robert Pattinson. We barely knew the young actress before her high-profile relationship and her role in Twilight. But in the olden days when they were costars in Speak, Stewart dated Michael Angarano. At the time, Angarano had more films and TV appearances under his belt than she did. He was the lead in the Disney film Sky High and had recurring roles on Will & Grace and 24. The two broke up suddenly while Stewart was filming New Moon. Now Angarano is nearly unknown and Stewart is hard to escape.
WireImage
Charlize Theron & Stuart Townsend
Even in his heyday, Stuart Townsend was hardly an A-lister. But since splitting with Charlize Theron in 2010, he's been practically invisible. Theron, on the other hand, has taken the step from star to superstar, starring in the excellent Jason Reitman/Diablo Cody flick Young Adult, the sci-fi blockbuster Prometheus, and the qualitatively unfortunate but efficiently profitable Snow White and the Huntsman.
Getty Images
Mary-Louise Parker & Billy Crudup
We're not exactly sure where we last saw Billy Crudup. We know he's been around, popping up in the likes of Watchmen and Eat Pray Love... but it hasn't been since his glory days at the dawn of the century — back when he was dating Mary-Louise Parker — that he was a real presence in Hollywood. While he left his Almost Famous era behind, Parker went onto star in the beloved Showtime series Weeds, along with some comparatively memorable films.
Getty Images
Ellen DeGeneres & Anne Heche
At this point, Anne Heche is probably most famous for the psychological troubles she endured at the tail-end of her relationship with Ellen DeGeneres, but the '90s mainstay was a big name thanks to Another World, Donnie Brasco, Volcano, I Know What You Did Last Summer, and Wag the Dog. The past decade has not been as fruitful for the actress, while Ellen has thrived as a media mogul, recurring awards show host, and marine vocalist (that's a fancy way of saying she voiced a cartoon fish).
Getty Images
Jim Carrey & Lauren Holly
When Lauren Holly met Jim Carrey, she had some success on television with Picket Fences and had starred in a few films. Carrey had a ton of movie roles, but was not a top-billing star until the two worked together in Dumb & Dumber. When they broke up, Carrey became an unavoidable success. Meanwhile, Holly faded into mostly small roles on television and in movies.
Ron Galella/WireImage
Jude Law & Sienna Miller
To be honest, the chaotic relationship between Jude Law and Sienna Miller is more interesting than either party's acting career. Since their official split in 2006, Sienna Miller has showed up in little more than the regrettable first G.I. Joe movie. Law, on the other hand, had a pretty big year back in 2011... then faltered back into oblivion... but is taking another step back up with Dom Hemingway, The Grand Budapest Hotel!
Getty Images
Angelina Jolie & Billy Bob Thornton
When he married Angelina Jolie, Billy Bob Thornton was a huge A-list actor with films like Sling Blade and Armageddon. However, when they divorced, Jolie turned from eccentric celebrity into superstar. She adopted a whole mess of children, united with the equally sexy (and married) Brad Pitt to form Brangelina, and she's become a huge star. Still, Thornton ain't doing too shabby... he's got his own show, a small-screen adaptation of Fargo, coming up on FX.
WireImage
Johnny Depp & Winona Ryder
Winona Ryder was one of the biggest major actresses back in the day. When this couple met, Depp was best known for his role on 21 Jump Street. Since their breakup, Depp's career has exploded beyond anyone's imagination. Eventually, Ryder fell out of the limelight.
Ron Galella/WireImage
Usher & Rozonda 'Chilli' Thomas
Solo artist Usher and TLC's own Rozonda "Chilli" Thomas split up in 2004. Legend has it that Chilli is still out there, somewhere, existing in some capacity...
Getty Images
Hayden Panettiere & Milo Ventimiglia
Hayden Panettiere and Milo Ventimiglia started dating while they were starring on the NBC sci-fi drama Heroes, playing niece and uncle... yuck. However, when the show and their relationship ended, Panettiere went on to star in Nashville, and maintains a respectable career. Ventimiglia, on the other hand, played quaternary characters in Grown Ups 2 and That's My Boy, and hasn't done much high profile work.
FilmMagic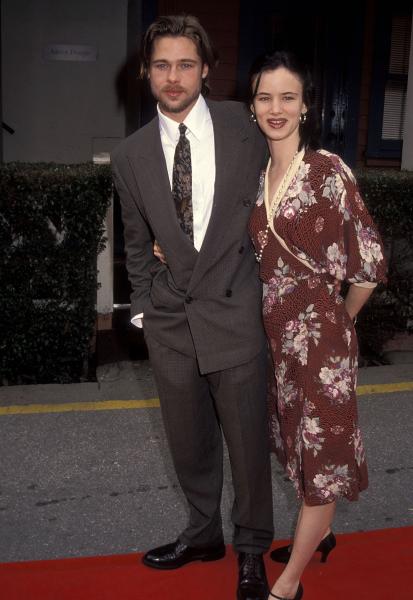 Brad Pitt & Juliette Lewis
Juliette Lewis was transitioning well from child actor to adult, even earning a nomination for her Cape Fear performance. Around this time, Lewis dated Brad Pitt, before he became a huge star thanks to Thelma & Louise. After they broke up, Pitt became a sex symbol and went on to become a bona fide star. His career has not stalled, nor his romantic life. But Lewis only makes occasional big screen appearances these days.
Ron Galella/WireImage
Amy Poehler & Will Arnett
This one still hurts to talk about. After splitting with Will Arnett, Amy Poehler's career seems to have inclined steadily, what with her Golden Globe hosting gigs and sustained popularity for Parks and Recreation. Arnett, on the other hand, lost his show Up All Night and has since submitted to The Millers... but hey, Arrested Development keeps you in our good graces for life.
WENN
Alec Baldwin & Kim Basinger
Alec Baldwin and Kim Basinger used to be one of the definitive Hollywood couples. They even guest-starred on The Simpsons together, playing themselves. Independently, Basinger was always very memorable for her stunning good looks and iconic roles in Batman and L.A. Confidential. But since the couple divorced, Baldwin has found major success on television. His role on 30 Rock helped him reach a level of success he'd never had before. Despite deciding to leave "public life," Baldwin is still a ton more successful than the nearly invisible Basinger.
WENN
Jennifer Garner & Scott Foley
In a time before Alias, Jennifer Garner was a little-known actress who was dating Felicity's own Scott Foley. When the couple split in 2004, Foley disappeared from view. Meanwhile, Garner found major success in films with Dallas Buyers Club, television, and relationships with her hubby Ben Affleck.
WENN
Jessica Simpson & Nick Lachey
A funny note in retrospect: Nick Lachey had Jessica Simpson sign a prenuptial agreement. Thanks to her idiotic antics on their reality show and some great money management, Simpson eclipsed him financially. Looks like that 98 Degrees money wasn't enough to keep him in the limelight. Now he appears as an occasional television host. Simpson may not be in the limelight all the time but she does make major bank with her various fashion lines and businesses.
Mike Fuentes/WENN
Reese Witherspoon & Ryan Philippe
These two were a dream couple. While their Cruel Intentions romance was... toxic... their real life courtship seemed picture perfect. However, Witherspoon catapulted to major stardom after their divorce and stayed on top. Meanwhile, Phillippe faded into near obscurity... save for that Robin Quivers lapdance, of course.
Nikki Nelson/WENN
Kim Kardashian & Ray J
There was a brief moment in history where Ray J was more relevant than Kim Kardashian. It was a different time, a simpler (yet still strange) time. However, before their infamous sex tape, Ray J was the centerpiece of many an album, music video, and episode of Moesha. Meanwhile, Kardashian was vaguely known as Paris Hilton's friend. Now, the tables have turned: Ray J is nowhere, and Kim K is the queen of the royal family of Hollywood gossip.
WENN
Jake Gyllenhaal & Kirsten Dunst
When Kirsten Dunst started dating Jake Gyllenhaal, she was a huge star. She had the success of Spider-Man and an illustrious career from childhood to adulthood. Meanwhile, when they stopped dating in 2004, Gyllenhaal was suddenly the one to watch. He starred in Brokeback Mountain, Jarhead, Love and Other Drugs, Prisoners, and the recent release Enemy. Dunst did have the terrific Melancholia a couple of years back, but she has been largely absent from the public eye.
WENN