Celebrity Math: Who the F**k is Javier Bardem Supposed to Be? — PIC
Magnificent and terrifying human being Javier Bardem is currently on location in East London filming his new movie The Counselor. And, well, he looks approximately zero-point-zero percent like any counselor we've ever seen. The film is already quite buzzed-about, considering it is the work of director Ridley Scott, writer Cormac McCarthy, and stars Michael Fassbender, Brad Pitt, Cameron Diaz and Penélope Cruz in addition to Bardem and a slew of others. So! It's no surprise that a film with this much heft behind it might potentially out-do itself with the visual interpretation of its characters. After all, the whole film surrounds the story of a lawyer who ends up in over his head when he gets involved in drug trafficking. Woops!
But what is Bardem's role in the film? Well, taking a look at the picture of him from September 17th while on set, there are a few hypothetical scenarios here. What we really want to know is: what in the world is his character's inspiration, right? Take a look at the picture first.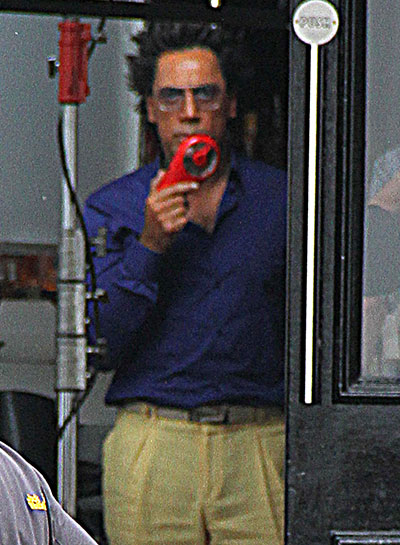 Alright, now let's get down to it: what in the actual f**k is going on here? Like, seriously. This is a commercial boatload of crazy. So many conflicting things all put together! Did Bardem's character (named Reiner) quit his day job at a paper sales company to mate with a Jersey Shore cast member while snorting cocaine before hitting up a Chester the Molester sunglasses convention? Since the film has been described in the past as "No Country for Old Men on steroids," well, we're not all that surprised that the creep and crazy factor are ratcheted up pretty high. We've got a few other options of character inspiration for ol' Reiner below:
1.) Pauly D + Mitt Romney x Hunter S. Thompson = Reiner
2.) A Giant, Sunburnt Fish + Sensible Khakis and A Comb-Over + An Electrical Socket = Reiner
3.) Bart Simpson + 30 Actual Years of Aging + A Tanning Bed Addicition = Reiner
4.) A Meth-Addicted Pair of Khakis + Wildwood, New Jersey – Ed Hardy x The Sun = Reiner
What do you think of Bardem's look? Have any other mathematical equations to explain it? Leave 'em in the comments!
[Photo Credit: INF Photo]
Follow Alicia on Twitter @alicialutes
More:
Penelope Cruz Joins Michael Fassbender in 'Prometheus' Director's Next
Cameron Diaz Chosen Over Angelina Jolie for 'The Counselor'
Fassbender Solidifies A-List Status with Ridley Scott's 'The Counselor'