Celebrity Moms' Craziest Behavior: 7 In The Spotlight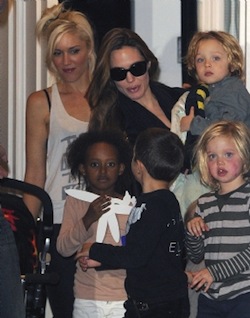 Celebrity moms are often asked to give parenting advice, but some of their tips can be a little out there. Or, in the case of Alicia Silverstone, really far out there. The Clueless actress shared a rather unique method of feeding her son Bear Blu this weekend, and she's just the latest celebrity mom who seems to be getting her childrearing advice from the pointy-eared Spock, not Dr. Spock.
In a video posted on her blog, Alicia Silverstone reveals that she feeds her son Bear Blu (more on that name later) by chewing up food and depositing it in his mouth, baby bird-style. "He literally crawls across the room to attack my mouth if I'm eating," she says. Thanks, but we'll stick to the old airplane/spoon trick.
But Silverstone isn't the only mom with odd habits. New mom January Jones is a fan of eating human organs. No, she hasn't left Mad Men for a role on The Walking Dead, she's just jumping on the placenta-eating trend. Supposedly consuming the organ can reduce postpartum depression and help replenish vitamins lost during pregnancy. While some women just cook up the placenta in a frying pan, Jones went the far less icky route by having hers condensed into pills.
Everyone knows that alcohol and pregnancy don't mix, but Bethenny Frankel and her baby Bryn both took to the bottle shortly after she gave birth in 2010. Frankel subscribes to the old wives tale that says drinking a small amount of alcohol while breastfeeding will increase milk production. But, the general consensus among doctors these days is that beer won't help moms make more milk, and alcohol should still be strictly limited while nursing. Even Frankel admits it turned out to be ineffective. "I don't think that it produced more milk," she says.
Katie Holmes has come up with a clever way to ensure that Suri Cruise won't be begging to wear makeup when she's in middle school: She's letting her wear it at five. Suri's penchant for high heels is well known, and last year she added a new grown-up accessory to her repertoire: Bright red lipstick.
It's become cliche for celebrities to bestow bizarre names on their offspring, yet it seems they're unable to resist. Silverstone's son Bear Blu can hit the playground with Shannyn Sossamon's son Audio Science and Jason Lee's boy Pilot Inspektor. At this point, if stars really want to give their kid an unusual baby name, they should go with Ann or Mike.
If your parents wouldn't spring for one of those pricy kid-sized Jeeps when you were little, be prepared to feel intensely jealous. Angelina Jolie and Brad Pitt reportedly spend $10 million per year on their brood. Raising six kids is never cheap and some things are necessary expenses for celebrity tots, such as the million spent on nannies, tutoring, and private jets. Other expenses like the $7,000 Brangelina spent to charter a private boat for Pax's 7th birthday are a bit more extravagant. Remind us to come back as a Jolie-Pitt kid in our next life.
[TMZ, iVillage, HollywoodLife, E!, Forbes, In Touch]