Celebrity Weddings We Wish We Were Invited To
Sure, we are all suffering from a little bit of miss-out anxiety over not being able to attend the royal wedding in London, but let's calm down and put this all in perspective. There are a hell of a lot of awesome weddings that we're not invited to. Plenty of our own American version of royalty (celebrities) get married all the time and many don't even allow any public photo evidence! The nerve.
Well, in honor of the impending British nuptials and to make us all feel a little better about our lack of invitation, here are our top 10 celebrity weddings we weren't invited to, but we really, really wish we were.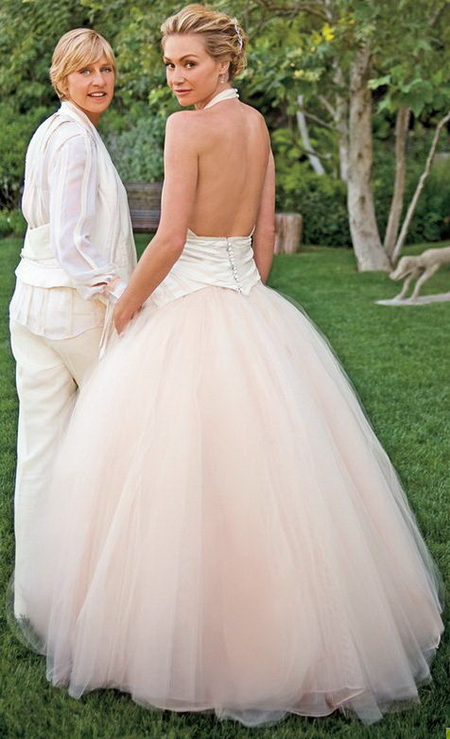 Ellen DeGeneres and Portia de Rossi
August 16, 2009
Not only are these two hilarious, fun-loving people, but they are so in love and from the looks of their photos, the wedding was absolutely gorgeous. It was outdoors and the beautiful California sun and you know once the reception got going, Ellen broke out her famous dance move.

Brad Pitt and Jennifer Aniston
July 29, 2000
Yes, they've since split, but when these two first got together it was like California sunshine magic. They were so beautiful and tan together and they got married in Malibu amidst great secrecy. I don't think there's anyone who would want to have been present to see these smiling faces tie the knot before Angie came along.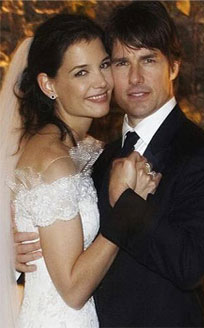 Katie Holmes and Tom Cruise
November 18. 2006
Sure, they seem a little crazy. (I'm being nice, this is a wedding feature after all.) But guys, they got married in an Italian Castle. That is the most romantic wedding location ever. And hey, even if they are a little bonkers, there's at least the element of watching two of our most beloved Hollywood potentially mentally unbalanced folks get hitched. It's a huge cultural moment, okay?
Beyonce and Jay-Z
April 4, 2008
So, these two got secretly married in a private party with all of Destiny's Child, Gwyneth Paltrow, Chris Martin, and a whole bunch of Jay-Z's close friends who I think it's safe to assume are all fairly awesome. Plus, Jay-Z and Beyonce just might be some of the coolest people on the planet, which means their wedding was probably amazing.

Posh and Becks
July 4, 1999
These two are a bit much and it does look as if they've been practicing their Zoolander faces since birth, but come on, it's Posh and Becks. They got married somewhere outside of Dublin with all of the Spice Girls in attendance and Elton John sang them a song to celebrate. I'd also like to note that the Irish and the Brits love to drink, so I'm sure the booze was free-flowing.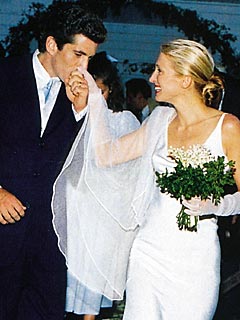 JFK Jr and Carolyn Bessette
September 21, 1996
These two were the closest we Americans would ever get to having actual American royalty. The Kennedies are somewhat like royalty this side of the pond, and JFK Jr. was the dreamiest one of the clan. When he got married in a secret ceremony in Georgia with only 40 guests, including Ted and Caroline Kennedy, we all wished we could have been one of those lucky 40 people in the tiny Baptist church. A few of us also wished it was us at the alter, but that's another story.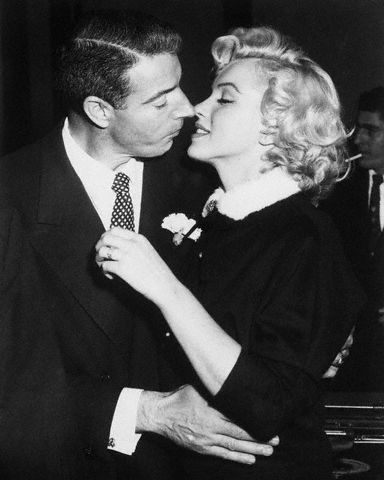 Marilyn Monroe and Joe DiMaggio
January 15, 1954
These two didn't last long, but folks still remember how they got married. Donning a dark coat instead of the traditional while dress, Marilyn married the Yankee at San Francisco City Hall, dodging fans all the way to the judge. It wasn't much of a party, but to be one of those folks milling around city hall who just happened to see the briefly happy couple attempt a low-key ceremony would have been pretty amazing.

Bianca Pores Morena de Macias and Mick Jagger
May 12, 1971
There's really not much to this one other than the fact that it was a rock star wedding in St. Tropez. We wouldn't want to have witnessed this because…? No answer? Yeah, that's what I thought.

Gwen Stefani and Gavin Rossdale
September 14, 2002
This pair had two weddings we weren't invited to. Way to stick it to us, guys. The first was in London with double-decker buses chauffering the guests to the reception and there was another one in LA two weeks later. Essentially, we all missed a double rock star double wedding. That stings.

Grace Kelly and Prince Rainier
April 19, 1956
This one is straight out of some fantasy film. Grace Kelly meets the Prince of Monaco, they fall in love, she quits acting and boards an ocean liner with a million suitcases and way too many dogs for eight days until she reaches Monaco, where she weds the Prince in the newly repainted Palace. Okay, maybe we didn't want to go, we just wanted to be her for a day to see what that was like.