Celebs and their BFFs: Twitter Roundup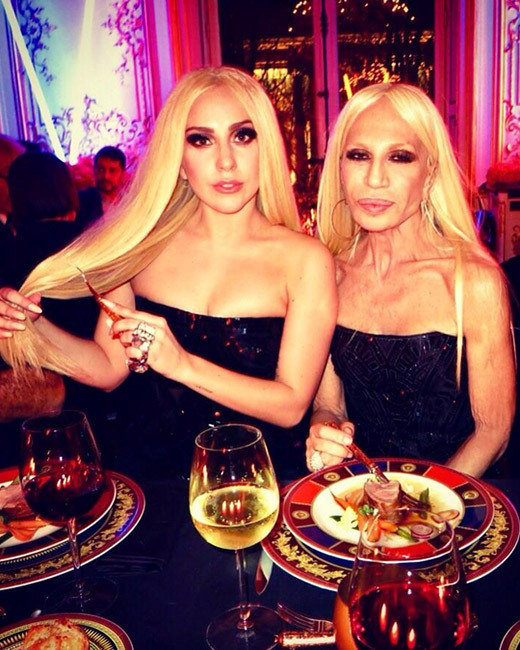 DerekBlasberg/Twitter
Since social media has basically eviscerated the definition of privacy, it's become much easier to track the personal lives of celebrities based on what they put up on their Twitters and Instagrams, including who they keep company with. While some stars keep their personal lives personal, other stars love to share their exploits with the people they're close with, whether those people are real life BFFs or online BFFs (or, in Zac Efron's case, a photoshop BFF). From Ian Somerhalder's cute son (i.e. his cat) to Aaron Paul's Heisenberg-reminiscing, here's a look at some of the people that celebs love to post themselves online with. 
Lady Gaga
About last night: #twinsies (And, yes, @ladygaga is brushing her hair with a fork.) pic.twitter.com/IgdhPo7bia

— Derek Blasberg (@DerekBlasberg) January 20, 2014
Is Gaga turning into Donatella or vice versa? More importantly, why is Gaga serving up Ariel from The Little Mermaid realness by combing her hair with a fork? (My apologies if that is an actual dinglehopper.)
Zac Efron
I got kissed in Miami. #awkwardtour pic.twitter.com/wmuCRuaRBq

— Zac Efron (@ZacEfron) January 24, 2014
The cast of That Awkward Moment has awesome chemistry on and off the screen, but Zac Efron clearly only has eyes for the dog he's making out with on Un Nuevo Dia.
Katy Perry
Here come the HUDSONS @TheGRAMMYs pic.twitter.com/0EspXWQp2f

— Katy Perry (@katyperry) January 26, 2014
Katy Perry brings along her younger brother to the Grammys. Were they trying to figure out what the hell Katy was wearing on stage, too?
Jared Leto
We forgot to post this picture earlier of @grimmers and his good pal @jaredleto. Ain't it something special? pic.twitter.com/1VvdHuX78h

— BBC Radio1 Breakfast (@R1Breakfast) January 29, 2014
Hipster overload: diligently crossing borders, oceans, and countries worldwide.
Diddy
#tbt my sis King B! http://t.co/ZpoWmKffnE

— Diddy (@iamdiddy) January 31, 2014
Beyonce. Does. Not. Age. 
Aaron Paul
The time when Jesse cut Heisenberg's hair. #BreakingBad #TBT http://t.co/1IGcbazGci

— Aaron Paul (@aaronpaul_8) January 23, 2014
Fair warning: this picture will make you weep for the days of Breaking Bad.
Zach Braff
I don't wanna get up. @Harry_Styles pic.twitter.com/POyh32KsUi

— Zach Braff (@zachbraff) January 24, 2014
The amazing photoshop, Zach Braff's majorly creepy gaze, Harry Styles' satisfied mug, the spooning… this picture = brilliance.
Ian Somerhalder
Getting work done from bed. Umm… What's odd about this work day??? Boy he loves his dad. http://t.co/tuMdK9l6c8

— ian somerhalder (@iansomerhalder) January 22, 2014
According to the caption, Ian Somerhalder's furry friend is more his son than his BFF. That's nice. Can we talk about how the cat is literally burrowing his way into Ian's butt, though?