Celebs Go Swimming: Fashion Praises and Friendly Advice
It's so hot in L.A. that even the superstars are melting! Everyone's off to the beach and the pool, and looking cool while staying cool is the number one priority for most celebs. Some, however, are more successful at it than others. Classic string bikinis, vintage playsuits, pastels, brights, geometric shapes, florals, sarongs, gladiator sandals, and aviator glasses are as prolific this season as sunblock. Just make sure not to wear every trend at once!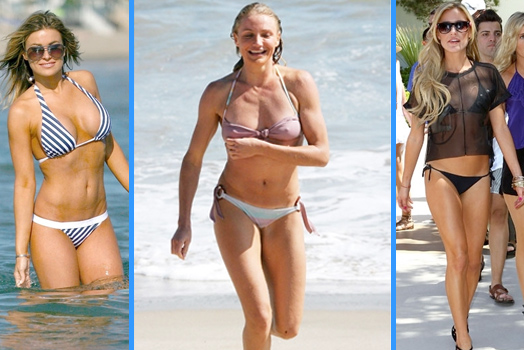 Click the Photo Above to See Our Entire Red Carpet Gallery
Kate Durbin is a Los Angeles-based writer, performer, and fashion artist. She is the author of The Ravenous Audience (Black Goat/Akashic, 2009), Fragments Found in a 1937 Aviator's Boot (Dancing Girl Press, 2009), and Kept Women (Insert Press, forthcoming). She is founding editor of the project Gaga Stigmata: Critical Writings and Art About Lady Gaga, which has been featured by Salon.com and The Huffington Post, among others. Her fashion essay, .