Celebs Who Love Olympians: The Six Stages of Twitter Fandom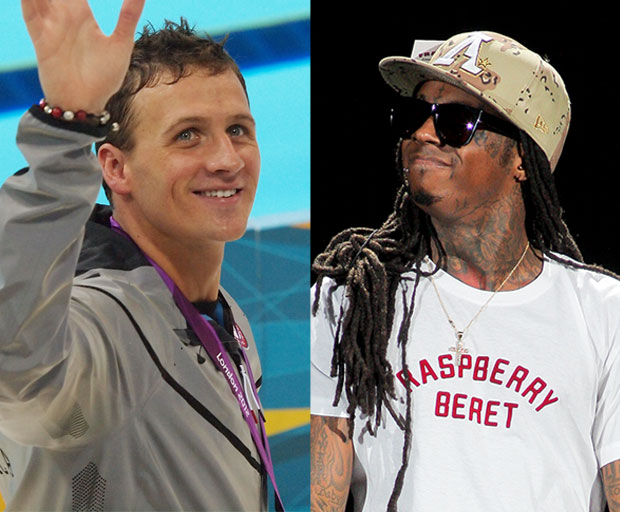 Every two years, for approximately two weeks, our usual headlining celebs — your Robert Pattinson and Katy Perry — take a backseat while the world turns its attention to a crop of new potential heroes: Olympians. Athletes like Gabby Douglas and Michael Phelps become so famous, in fact, that even our biggest celebrities leave their altars to worship at the feet of these new stars. And, if we're lucky, they do it in a way that we can all witness their devotion: on Twitter.
But not all Celeb-to-Olympian tweets are equal. We've witnessed everything from gracious and appropriate to enthusiastic and entirely confusing. To help us better understand this phenomenon, we've created a scale of sorts: the six stages of Twitter fandom for celebs.
1. Compulsory Patriotism
You can't be a celeb who doesn't appreciate the Olympics. It's just bad form. And whether or not Kim Kardashian has watched a single second of Olympic coverage, she knows how important it is to keep the support flowing.
Awww Go USA!RT @jordyn_wieber: Hey @kimkardashian. The USA gymnastics team interviewed w Bruce today! Me & @kyla_ross96 are big fans!
— Kim Kardashian (@KimKardashian) August 1, 2012
2. Gushy, Genuine Support
This is the most understandable of all celeb-to-athlete tweets. No matter who you are, witnessing Gabby Douglas' historic All-Around Gold Medal win is bound to move you. You're just more likely to get her thank you for your tweet if you happen to be Oprah or Nicki Minaj.
Oprah and Nicki Minaj Give Gabby a Boost
OMG I'm so THRILLED for Gabby. Flowing happy tears!! #TeamUSA
— Oprah Winfrey (@Oprah) August 2, 2012
*kisses to Gabby* what an amazing little firecracker. #USA #Olympics
— Nicki Minaj (@NICKIMINAJ) August 2, 2012
Michael Phelps: Josh Charles' Hometown Hero
Tape delay aside, I'm so damn proud of my fellow Baltimore boy @michaelphelps & what he accomplished tonight. Incredible. #USA#Olympics
— Josh Charles (@MrJoshCharles) August 1, 2012
Celebrity Olympians Support Newly Famous Olympians: Go Ahead and Say "Aww"
Congrats to @gabrielledoug last night!!! We watched from the pool!!! #USA
— Michael Phelps (@MichaelPhelps) August 3, 2012
3. Tweets That Give Olympians Swagger
Sometimes, the content of a particular celeb's pro-Olympian Tweet isn't what defines its quality. It's the caliber of the person doing the tweeting. And sometimes, that person's approval is basically instant swag.
Much luv to Ryan Lochte and the USA swim team!!!!
— Lil Wayne WEEZY F (@LilTunechi) August 2, 2012
Congrats to the homie @michaelphelps! 19 Olympic medals…. #motivation #letsgetit
— SnowGo (@YoungJeezy) August 1, 2012
yessir bigups to @gabrielledoug u did ur thang
— Timbaland (@Timbaland) August 3, 2012
4. Let's Be Friends… No, I Mean Actually
Regular people meet friends on Twitter these days, so why not celebs? These Olympics fans are so dedicated, they even want to make good on their Twitter praise.
Richard Branson Wants to Party With Usain Bolt
Unbelievable Usain! Surely the greatest ever. Congratulations to Jamaica, look forward to celebrating when I'm next there.
— richardbranson (@richardbranson) August 5, 2012
Justin Bieber Becomes Besties With the U.S. Gymnastics Team
That amazing moment when @justinbieber follows all of us. ??????????
— Jordyn Wieber (@jordyn_wieber) August 1, 2012
5. All-Out Fan-Girling/Fan-Boying
Celebs may be the subjects of overzealous fandom, but some aren't incapable of dishing it out either. From holding gushy, inquisitive Q and A sessions on Twitter, to praising every Olympian under the sun, some celebs actually really love the Olympics.
Gaga Gets Giddy With the Gymnasts
@mckaylamaroney tweeted at me! Why didnt anybody tell me!!! DEAD. You were brilliant give all the girls a kiss for me!
— Lady Gaga (@ladygaga) August 1, 2012
Woohoo! Gold for the ladies! just want to squeeze them! So much talent and beauty. Did u seem all holding hands? There's no "I" in team.
— Lady Gaga (@ladygaga) August 1, 2012
Those girls are tearing the floor up for the USA! #Olympics
— Lady Gaga (@ladygaga) August 1, 2012
Mark Ballas is Spinning for Olympians
man @kerrileewalsh is a BEAST… Lovin it #amazing
— Mark Ballas (@MarkBallas) August 2, 2012
WOW @rebsoni amazing.. Congrats…#worldrecord #olympics
— Mark Ballas (@MarkBallas) August 2, 2012
watching the lovely @mistymaytreanor SMASH it on the Volley Ball Court. Get it girl….
— Mark Ballas (@MarkBallas) August 2, 2012
Love @jordyn_wiebershe smashed it….. Nice work girl… #TEAMUSA
— Mark Ballas (@MarkBallas) August 1, 2012
6. Not Quite Worrisome, But Totally Cryptic/Very Strange Tweets
There's a certain sense of freedom that goes with being a celebrity. And part of that sense is the ability to basically say whatever he or she wants wherever and whenever they want and get away with it. That includes some confusing Twitter messages that aren't exactly worrisome, but have us scratching our heads endlessly.
Ian Somerhalder Sends Encouragement to Gabby… We Think
We'd like to congratulate you&the U.S. Women's team on your gold medal!Go Team USA!Love,Ian SIm watching you right now on the TV:) 15.5!!
— ian somerhalder (@iansomerhalder) August 3, 2012
Bryan Cranston, What Does Walter White Have to Do with Winning 20 Gold Medals?
Note to @michaelphelps. Channel your inner Walter White. As you look at the water imagine blue crystal and say to yourself, I AM the danger!
— Bryan Cranston (@BryanCranston) July 29, 2012
What was your favorite celeb-to-Olympian tweet?
Follow Kelsea on Twitter @KelseaStahler.
[Photo Credit: Wenn (2)]
More:
Olympics Roundup: Usain Boltin', Blade Runnin', and Andy Murray
Unhappy Hour: Nine Ways The Olympics Gave Us Reason to Drink