Celebs Who Married Their High School Sweethearts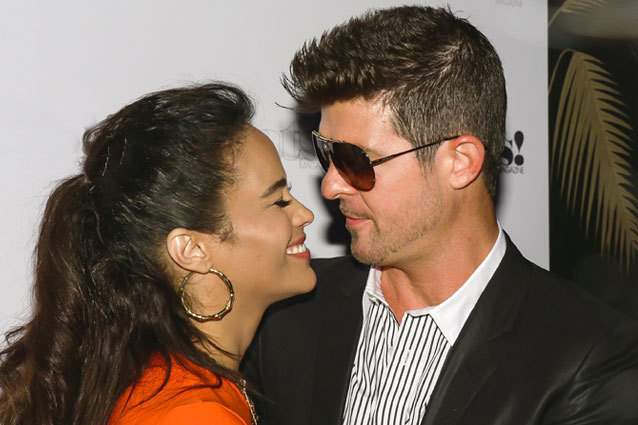 Andrew Toth/WireImage
Breaking up may be hard to do, but staying in a relationship can be even harder. This goes doubly true in the entertainment world, which is basically a cesspool of temptation as it is. Some celeb couples have stood the test of time and have been with their partners since they were just the lame drama kids and skinny, wannabe rock stars in their senior classes. To these rare couples, we salute you.
Jeff Daniels & Kathleen Treado
Jeff Daniels is coming off the high of an Emmy win, but his real win is his relationship with his wife, Kathleen Treado. The couple's story plays like a rom-com: they met at high school in a small Michigan town, fell in love, got their careers going, and finally got married at twenty-four years old (aka 1979).
Paula Patton & Robin Thicke
Before he had topless women dance around him in music videos and was grinding with a young twerker with a lizard tongue at the VMAs (but not taking any flack for it), Robin Thicke was just another dorky celebrity son. He met Paula Patton when he was fourteen and she was fifteen, and serenaded her at a teen night club. (What are those and how come we didn't have any?) Though the couple dated throughout high school and college, they didn't get married until fifteen years later.
Snoop Dogg and Shante Taylor
Snoop Dogg and his wife have had a rollercoaster ride of a marriage, but they've managed to make it out together. Snoop met Shante Taylor at their Long Beach high school and after 2 kids together, married in 1997. In 2004, Snoop filed for divorce, but by 2008 the couple was back together, renewing their wedding vows.
Bono & Ali Stewart
Bono met Ali Stewart when they were fifteen and have been together ever since. Stewart was with Bono during the death of his mother and supported his burgeoning interest in music and performing. They didn't know it then, but Bono would end up fronting one of the biggest Irish rock bands in the world, and the couple would remain together since their marriage in 1982.
Jon Bon Jovi & Dorthea Hurley
Jon Bon Jovi is basically the Paul Newman of the rock world, preferring to stay a one-woman man than skank around with every groupie that he sees. After dating all of high school, the couple waited another 9 years to get married, which they did by eloping to Las Vegas in 1989. Almost thirty years and four children later, the couple is still going strong.
More:
Cate Blanchett's Directorial Debut Could Be Brilliant
Supermodel, Supermom: 5 Reasons to Love Miranda Kerr
The TGIF Moments That Defined Your Childhood
---
From Our Partners:


40 Most Revealing See-Through Red Carpet Looks (Vh1)


15 Stars Share Secrets of their Sex Lives (Celebuzz)