Celebs Who Need To Go Back To School: Twitter Roundup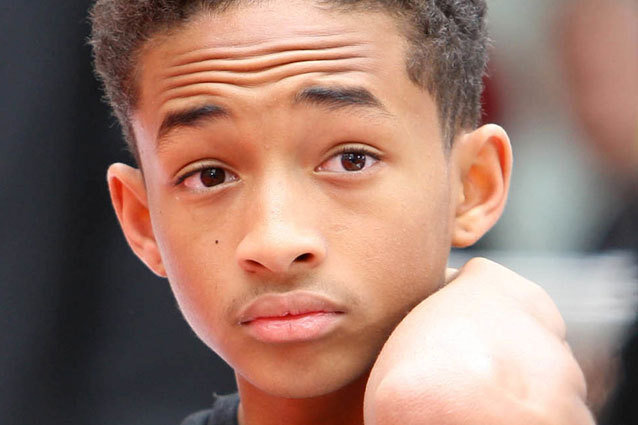 FayesVision/WENN
There's nothing more illuminating than being told the secrets of life and the ways of the world by an overprivileged fifteen year old. Luckily for all of us, the great wordsmith Jaden Smith recently imparted words of wisdom for us all to live by on his Twitter (what else?). Forget stopping wars and ending poverty – according to Smith, the world would be a much better place if everyone just dropped out of school.
Some of the gems Smith dropped include:
"School Is The Tool To Brainwash The Youth."
"If Newborn Babies Could Speak They Would Be The Most Intelligent Beings On Planet Earth."
"If Everyone Dropped Out Of School We Would Have A Much More Intelligent Society."
"Education Is Rebellion."
Capital letter abuse aside, Smith is going hard with the philosophy. So school, which provides an education, is a brainwashing tool, but education, which you receive from school, is rebellion; therefore, it's rebellious to be… brainwashed? Jaden, you're just way too deep for us.
Smith isn't the only celeb to prove the necessity of publicists in the entertainment world. Here's a look at some tweets by other stars that can clearly benefit from a grade school class or 10.
Jessical Biel
"I work out every day – Monday to Saturday."
Did someone get rid of Sunday and forget to tell us about it?! Working out has definitely paid off for Biel, but maybe she should look into buying a calendar. Or, you know, having some of that common sense stuff that everyone's talking about these days.
50 Cent
"Speaking of MILF. I wanna do something that impacts kids in a positive way, that's why I'm opening an abortion clinic. Ima call it 50/50 chance."
In some cases, you can argue that the celebrities are just joking about their ridiculous tweets, but one look at 50 Cent's Twitter and you will find a plethora of amazingness like this. Dude is for real. In a mere twenty-six words, Fiddy has intertwined MILFs with helping kids with abortion clinics – that takes skill. His tweet gets better with every word and the name of his hypothetical abortion clinic (because what celeb doesn't want their name associated with abortion?) is possibly the worst name of any clinic in the history of clinics. Keep thinking of the children, Fiddy.
Kate Gosselin
"Hellloooo!My am is well on it's way!Looking 4ward 2 2day.Lots 2get dun be4 r wkend of filming! Shld hav sum X 2 tweet 2day so checkin w ?'s"
Um, what? Forgetting the horrendous grammar for a second, what exactly is Kate Gosselin talking about in the last sentence? "Shld hav sum X 2 tweet 2day" – is she handing out ecstasy pills over Twitter? Because in that case…
Mary J. Blige
"Why is it that people always try to understand estimate my intelligents?! They should never do that!"
At first, this just seemed like auto-correct took control over Mary J. Blige's tweet, but what auto-correct approves the word "intelligents"? Perhaps people don't understand how smart you are, Mary, because you tweet out sentences like this to the entire planet.
Kourtney Kardashian
"Do ants have d**ks?"
Really, any Twitter handle that has "Kardashian" in it is bound to be full of ridiculous tweets, but this one takes the cake. Someone should explain to Kourtney that ants mate just like people – they pray and pray to the Baby Gods and then a friendly stork drops off a baby bundle of joy at their doorstep. Only difference is that in this case, the ant babies are dropped off by dragonflies, not storks (because ants are smaller than humans, duh).
Paula Abdul
#ILoveMondays #GetOffYourBUT
#ILoveMondays #GetOffYourBUT
#ILoveMondays #GetOffYourBUT
#ILoveMondays #GetOffYourBUT
xoxoP
Oh, Paula. Who is that rude Caps Lock Monster interrupting your second hash-tag? We all want to know what we're supposed to get off of!
Bow Wow
"Face numb im whippin the lambo. Tispy as f**k. Just left @livmiami. Im f**ked up! Ohhhh damn. Y i drive the lambo. Chris might have to drive after next spot."
I hate being "tispy" too! It's so annoying. Bow Wow told the whole world about his drinking and driving adventures over Twitter, because what's cooler than bragging about being an idiot? Best part of the tweet: "Y i drive the lambo." Yes, we're all wondering how someone who speaks like that got enough money to buy a freaking Lamborghini.
Paris Hilton
"No, no, I didn't go to England; I went to London."
They're called 'maps,' Paris, and they won't hurt you. And why did you have to drag that poor semicolon into it?
Skrillex
"I wish I was aloud to use the n word sometimes (in a non racist way of course)"
It is so hard being white, male, and rich. Using racist words in non-racist ways is all Skrillex wants to do – why won't our oppressive society let him?! Also, does Skrillex want to be 'aloud' the way Girls Aloud are aloud or what?
Ryan Lochte
"Rocks, paper, siccor…….."
I think you just lost the game, Ryan.
More:
It Is Seriously Time To Stop Watching MTV's 'Teen Mom'
There Is A Scholarship For 'Best Twerker,' Because That's the World We Live In
Jon Gosselin Is Waiting Tables and Living in a Cabin
---
From Our Partners:


40 Most Revealing See-Through Red Carpet Looks (Vh1)


15 Stars Share Secrets of their Sex Lives (Celebuzz)