Channing Tatum Gives Elton John a Lap Dance on Stage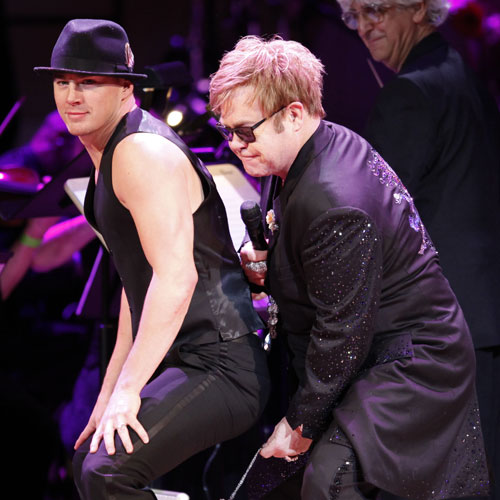 If you had any question who the luckiest gay man on earth was last night, then this picture should prove to you that it's none other than Sir Elton John. No, it's not because of the title or the millions of hit records or the fact that he was hanging out at a fancy benefit with the likes of Meryl Streep, Sting, Jennifer Hudson, Vince Gill, and Bruno Mars. No, it's none of that. It's because he got a lap dance from 21 Jump Street stud Channing Tatum. Yes, Elton was feeling the love and the lust last night. Oh, what millions and millions of gay men wouldn't give to be rubbing tuxedo pants with Channing Tatum. Heck, we're sure plenty of women would be into it to! 
The bump and grind was part of the
Revlon Concert for the Rainforest Fun
that was held on April 3 at Carnegie Hall. While it was meant to be an evening of song for Sting's eco-minded charity, the Manhattan landmark wasn't prepared for entertainment so blue. We're sure after their little duet, Elton was giving a whole new meaning to "Rocket Man." 
While it might have been a way to get Elton (and the other swooning fans in the audience) to open up their wallets for a good cause, it might also have been to draw even more attention to Tatum's stripper past and his upcoming male stripper movie, Magic Mike. Do you think he'll be giving this amount of personal attention to every man in the theater? (Yes, I said man, because the houses will be back with nothing but homosexuals for at least the first 200 screenings of Magic Mike.) We certainly hope so, because if Tatum looks this delicious dancing fully clothed, wait to see how he burns up the screen in a G-string!
[AP Photo/Jason DeCrow] 
More:
Channing Tatum and Alex Pettyfer Do Not Have Shirts on in New 'Magic Mike' Pics 
'Magic Mike': 'Big Dudes in Thongs Dry Humping 200 Female Extras a Day'