Channing Tatum: Joe Manganiello 'Is a Specimen'

In a new interview with Out magazine, Channing Tatum shares some interesting thoughts on topics as wide-ranging as costar Joe Manganiello's body and The Goonies ("One of the rare movies that still works") — and a LOT of stuff in between.
Tatum suggests that his new movie, the male-stripper comedy Magic Mike, doesn't exactly hold the normal summer-movie appeal. "It's risky," he tells the magazine. "People say that women and the gay community will go see it — knock on wood — but I know straight guys won't be like, 'Yo, what's up, man — you wanna go see the stripping movie after the game tonight?' I doubt they'll have the balls to see it."
He does, however, think that even the aforementioned demographic won't be immune to Manganiello's famously buff physique. "With Joe Manganiello naked in a movie, I think even straight guys are going to be, 'S–t, I need to see that,'" he says. "'That man is a specimen.'"
When he ventures off topic, Tatum shares other interesting anecdotes, like one about an audition for a role seemingly a wee bit out of his wheelhouse: Llewelyn Moss (which ended up going to Josh Brolin) in No Country for Old Men! "I went into that audition knowing that I was 15 years too young for the role," he recalls. "But I really fought to get the audition because I knew that I would come out a better actor because of the Coen brothers. I just wanted to be in the room with them."
It turns out that Tatum also has a serious student-of-film side to him. He doesn't take his hard-earned success lightly. "I've been acting for eight years now, and I feel I'm just starting to understand things," he says. "As soon as you think you're the s–t, you'll find 100 people that will point at you and laugh. I don't ever want to be that person — I want to keep finding people I can learn from. That's my entire journey in life."
Check out the entire article in Out's June/July issue, on newsstands now, and the cover, below. And don't miss Tatum AND Manganiello in Magic Mike, out June 29.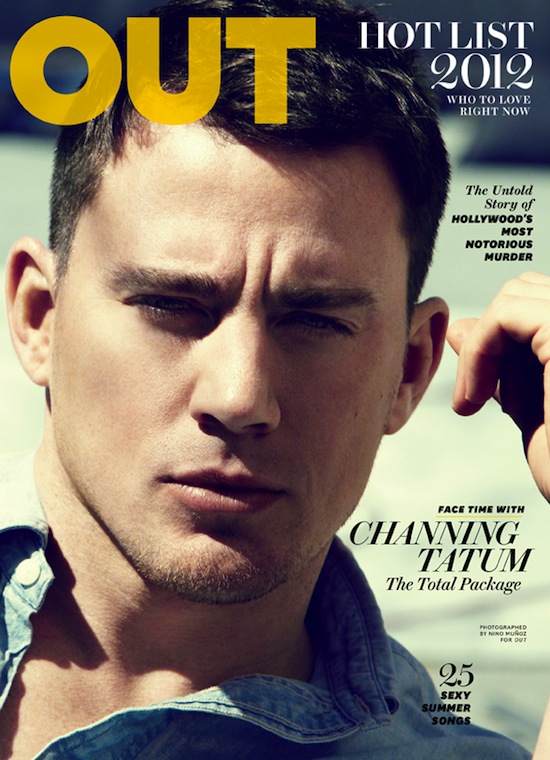 More:
'Magic Mike' Trailer: Channing Tatum Falls in Love in a Shirtless Place – VIDEO
Channing Tatum Stripping in 'Magic Mike': Sexy or Hilarious? – PICS
Joe Manganiello on 'Magic Mike': "Big Dudes in Thongs Dry Humping 200 Female Extras a Day"