Channing Tatum on Stripping: I Wanted to "Try Something a Little Crazy"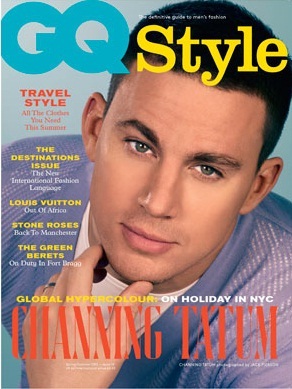 Channing Tatum's stripper days are such a fascinating topic that it's actually becoming a movie (complete with stripperific images of Tatum and costar Alex Pettyfer to work magic in your ocular organs). But even when not in "costume" for Steven Soderbergh's developing comedy Magic Mike, Tatum tells a pretty interesting story about his pre-acting work as an exotic dancer.
In the newest issue of British GQ Style, on sale now, Tatum discusses getting into the stripper game as a 19-year-old. Although money was certainly a factor, more than anything else, Tatum's motivation appears to have been to steer clear of boredom. "I was young and dumb and stupid and wanted to make a little money," he said. "You can work ten hours a day for minimum wage. That's the opportunities for kids without a college education. Get some s**t job that you're really going to have to bust your hump for. Or you can try something else a little crazy."
Although Tatum excelled as a stripper, his confidence in his acting abilities has not always been that high. He tells
GQ
, "In the beginning I felt like I definitely did not fit in [in Hollywood]". However, thrusting himself into more projects and gathering more experience as an actor and producer of films like
Magic Mike
and this Friday's
21 Jump Street
(
which he discussed at length at our set visit
) has certainly helped. 
"Now I feel like I am getting hipper to the game. I fought it really hard at the beginning. It's hard on your emotional self. Failures, even reading something someone wrote about you…God, I'm just trying so hard here."
Well, Tatum, you're pulling it off. 21 Jump Street hits theaters March 16.