Will Charles Ramsey Join the Ranks of Other YouTube Celebrities?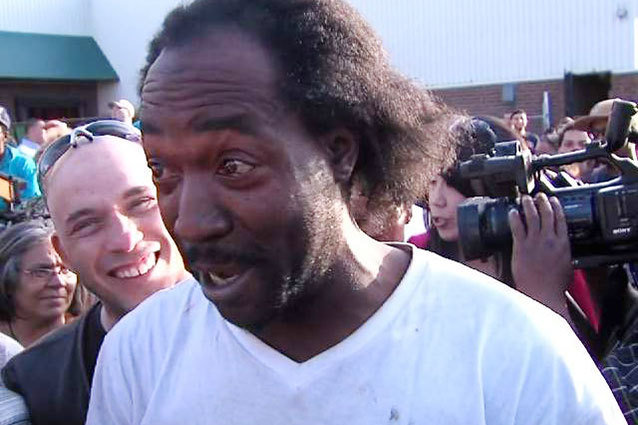 If you work in an office, a department store, a construction site, a taxi, or pretty much anywhere that forces you to interract with other people, you're bound to have already been hit with the question: "Did you see that Charles Ramsey YouTube video?" The latest in a long, flickering line of Internet celebrities, Ramsey is a bona fide hero who rescued three women and one girl from the home of an abductor, resulting in the latter's arrest. But beyond his bravery (for better or worse), Ramsey will likely be remembered for his vigorously entertaining persona, captured in this interview following the climactic episode:
Thus, a pop culture sensation is born. Already, Ramsey is the talk of the web, earning the attention of everyone with reliable Internet access. At this point, the heights to which this fame might spring is up for guesses.
YouTube stardom is a fickle thing. We've seen individuals explode into the conversation and then disappear just as abruptly; we've seen others pitch a permanent campsite in the lexicon, popping up in the form of displaced references for years on end. And in some cases, we've seen people actually make careers off their viral hits… however short-lived or flaky they might be.
The first figure that comes to mind is Antoine Dodson, another local news interviewee whose character quirks have earned him mass quotability since 2010. Fans will recall Dodson's diatribe about a home intruder in Lincoln Park, Alab., amounting to hysteria, reaching the ever sanctified platform of the Auto-Tune art form. Himself an aspiring musician, Dodson capitalized on his incidental notoriety to launch a series of live performances, a line of T-shirts, and even a foundation to fight juvenile diabetes. Although Dodson's career hasn't quite panned out with the promise it once had (in 2011, Entertainment One promised an Antoine Dodson reality show that never seemed to have panned out…), he's at least still a headline regular. Just this month, Dodson's admissions of rejecting his own homosexuality and embracing his identity as a Hebrew Israelite earned tabloid attention.
We also have more contentious examples. For instance, Ted Williams, better known as the Man with the Golden Voice: a homeless man whose impressive vocal abilities landed him YouTube notability in 2010, and a career as a voice-over artist for several institutions. Unfortunately, recovering alcoholic Williams also attributed his relapse to the extensive media attention garnered by his newfound prosperity. Williams' work load has seemed to fizzle out over the course of the past year.
But not everyone's fame extends beyond the viral realm. Earlier this year, YouTube met a homeless hitchhiker named Kai, who avowed to have rescued a passerby from an assault by attacking the perpetrator with a hatchet. The past has given us Jacob Isom, who intercepted the Dove World Outreach Center's Quran-burning event in 2010, offering a colorful account of his disapproval of the act of intolerance. 
With varying degrees of success to come from YouTube, we can't be sure where Ramsey's path will lead from here on out. But maybe, at the very least, as entertained as we might be by his comical yarns, we can offer a little more attention to the courage of his actions.
Follow Michael Arbeiter on Twitter @MichaelArbeiter
More:
Is This the End of YouTube as We Know It?
Bizarre YouTube Video Hits 10 Million Views
Patton Oswalt Dominates the Internet with 'Star Wars' Filibuster
---
From Our Partners:


What Happened to 33 Child Stars (Celebuzz)


40 Most Revealing See-Through Red Carpet Looks (Vh1)