Is This the Worst Thing Charlie Sheen Has Done?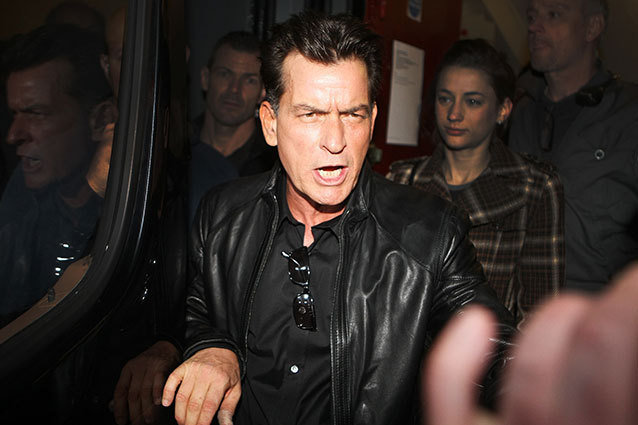 Charlie Sheen has racked up a list of deplorable choices longer than FX's episode order for Anger Management. Between the strippers, cocaine, Two and a Half Men, and bizarre friendship with Lindsay Lohan, we didn't think things could get much worse for Sheen. And yet, on Thursday he managed to top himself. 
Sheen took to Twitter — the very best place for expressing one's ire — to goad his followers into sending canine excrement, litter, and spoiled perishables to his daughter's former school, where she was reportedly the target of peer bullying.
The charming text in full, which so far exceeded Twitter's 140 character limit that it had to be posted on TwitLonger, reads: "This is a legitimate call to arms. my daughter Sam was bullied out of Viewpoint school and then called a liar. it's on! if you have a rotted egg a roll of toilet paper or some dog s**t; I urge u to deliver it with "extreme prejudice" to their KamPuss run by trolls and charlatans. make me proud. we will not tolerate this level of abhorrent disrespect towards the child of your favorite Warlock. And if your feeling the "show and tell" of it all, smear the s**t to spell one name on the front door; VICTORIA. eat that loser."
RELATED: Five Things Less Threatening Than Charlie Sheen
According to TMZ, in March of last year Sheen's nine-year-old daughter Sam was indeed picked on by a classmate for her appearance, as well as for her father's termination from Two and a Half Men. Following the incident, Sheen and Sam's mother Denise Richards met with the school three times. Feeling they were getting nowhere with the administration (the parents of Sam's bully reportedly maintained that Sam was lying about the abuse), Sheen and Richards pulled their daughter from the school. 
In response to Sheen's tardy attack, Viewpoint School, which is located in Calabasas, Cal., told E! News on Thursday, "Viewpoint School's highest priority is the safety, security and education of our students. Like all responsible schools across our nation, we are concerned when any individual uses a social media forum to encourage actions that may risk the safety and security of any school."
RELATED: Sheen Thinks He Could Guide 'Idol' Contestants
"The parent of a former Viewpoint School student who has not attended Viewpoint School since March 2012 has made certain accusations in the media. Viewpoint School first became aware of these accusations last year," the statement continues. "Our administrators addressed the issue appropriately at that time. Our School takes accusations of bullying very seriously. For over 50 years, Viewpoint School has provided a safe and nurturing environment for our students to thrive, and we will continue to do so."
On Friday, Sheen continued to stand by his call to arms, telling TMZ, "There's no statute of limitations on bullying … The [Viewpoint officials] needed a visual reminder not to forget the epidemic of bullying."
Sheen's steadfast protection of his daughter is, in a way, commendable. Or, that is, it would be if it wasn't done in such an inflammatory fashion or at a time that is so clearly devised for self-promotion. As we see it, there are three reasons why this may just be the most vile thing Sheen has done to date. 
RELATED: 'Scary Movie 5' Worse Than Charlie Sheen in Bed with Lindsay Lohan
1. The incident happened last March — so then why are we talking about it now? It seems rather fishy that both Scary Movie 5, in which Sheen has a small role, and the Season 2 finale of Anger Management are just under a month away. What better way to garner buzz surrounding your name than to drag your nine-year-old daughter into it?
2. Promoting violence and vandalization against an elementary school is nothing short of disgusting. 
3. Sheen call Sam's bully by name. While it may be true that young Victoria did Sam an injustice, there is never an appropriate time for a 47-year-old man to harp on a nine-year-old. Haven't you heard the one about picking on someone your own size? 
Not to mention the fact that bullying the bully is never the solution. We would never deign to call Sheen a role model, but you would think he would try a little harder to send the right message when his kid is involved. Silly us, what were we thinking? 
Follow Abbey On Twitter @AbbeyStone
[Photo Credit: Mark Doyle / Splash News]
---
You Might Also Like:


Lil Wayne Rushed to Hospital


Emma Watson in '50 Shades of Grey'?