Charlize Theron Shaves Head, Looks Hotter Than Ever — PIC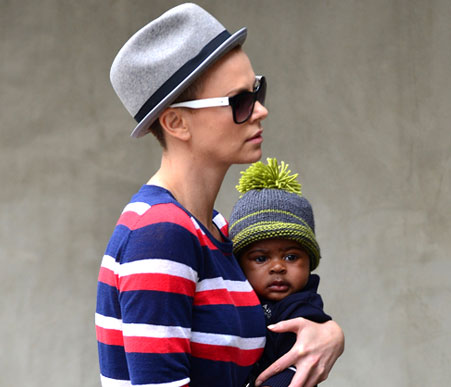 In "In Case You Needed Anymore Proof That Charlize Theron Rules" News, the Prometheus star and mom shaved her head for her upcoming turn as Furiosa in the soon-to-be-filmed, long-delayed Mad Max 4: Fury Road. The buzzworthy (yep, we went there) new 'do has caused quite a stir in Beverly Hills this morning as the actress took her too-adorable-for-words son Jackson out for a stroll. Seriously, I had no idea they made children that adorable, but apparently they do.
We're dying to see what Charlize looks like sans porkpie hat, but we have no doubt that the leading lady — who has clearly made these past 12 months her b***h with killer roles in the films Young Adult, Snow White and the Huntsman, and the aforementioned Prometheus — will look great with or without her headgear. She's probably one of those people that has a perfectly-shaped skull and can pull off anything. What a jerk! (Jokes, Charlize!)
Charlize isn't the only woman who's shaved her head for a role before: remember Natalie Portman's 2006 buzz cut or the breakout moment Demi Moore had from her role in 1997's GI Jane? Something tells us that Charlize's cut may inspire some copycats as the weather continues to heat up. Admit it: you've totally been jealous of your brother's summertime buzz cut from time to time!
What do you think of Charlize's new look? Let us know in the comments below!
[Images via AKM-GSI]
Follow Alicia on Twitter @alicialutes
More:
Charlize Theron's 'Hatfields & McCoys' on NBC — An Expert Explains the Phenomenon