Charlize Theron Shows Off Bald Head Sans Hat. Yep, Still Gorgeous — PIC
While most girls suffer from a complete emotional breakdown after a bad haircut (don't act like it's never happened to you), Charlize Theron manages to look absolutely stunning regardless of her hairstyle. In fact, she doesn't even need a hairstyle — she even stuns with a completely bald head. While fans may have gotten a good look at her buzz cut a few weeks back, the actress was spotted sans a hat in Namibia this week with her son Jackson, displaying her shaved style in all its glory for the very first time.
And she still looks amazing (even when blurry). Like we really needed another reason to be jealous of this woman. Is it outright impossible for her to look bad? Is anyone else suffering from a massive loss of confidence?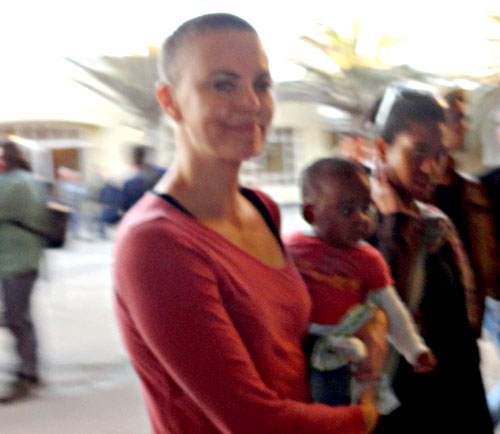 [Photo credit: ACE/INFphoto.com]
More:
Charlize Theron Shaves Head, Looks Hotter Than Ever — PIC
Charlize Theron Will Solve a Murder Mystery