Chris Brown and Rihanna Are Hooking Up: Why This Cannot Happen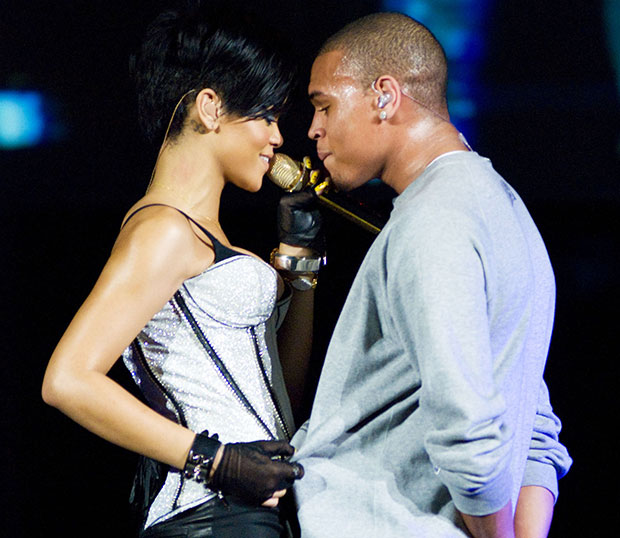 This news is best told in the same way you would rip off a band-aid: quickly, with little regard to pain. Chris Brown and Rihanna may be back together. Take some time to let your hurt go numb, and then we can continue our chat.
So, here's the story as E! News tells it. Rihanna and Brown were both at New York club Griffin on Monday, and after sitting at separate tables for a little, Brown sidled up to Rihanna. Then, before anyone knew what was happening or could put a stop to it, Rihanna and a shirtless (how this happened is a point of contention) Brown were spotted dancing and making out on the dance floor. Another eyewitness then spotted Brown and Rihanna leaving the Gansevoort Hotel together on Tuesday around 5:50 PM.
On the count of three, let's all groan and cry together. One, two, three.
But, in all seriousness, this is bad news. Whether she wants it to be the case or not, Rihanna is someone young girls look up to. She's young herself (only 24), talented, beautiful, and outspoken — the perfect recipe for a role model. So when the impressionable youth of today see Rihanna smooching and cavorting with a man who once beat her to a bloody pulp, they may be led to believe that giving your abusive ex another chance is an okay thing to do. And it is not. I repeat, returning to a man who has physically harmed you is never an okay thing to do. But what if he … NO.
Even more troubling than Rihanna's inability to stay away is the ease with which Chris Brown's fans forgive him. Since the initial altercation in 2009, Brown's career has hardly faltered. In 2010, Brown was asked to perform a Michael Jackson tribute at the BET Awards, where he also accepted the AOL Fandemonium prize. He also had his first No. 1 hit since 2006, "Deuces," and starred in and executive produced the film Takers. His 2011 album F.A.M.E. then debuted at No. 1 on the US Billboard 200 chart. All the while, Brown has been buoyed up by legions of fans — and over 11 million Twitter followers — who have decided to forgive and forget the fact that he is a criminal. Reactions to Brown's violence against Rihanna included such despicable comments as, "Call me crazy but I would let Chris Brown beat me up anyway." Would you really? Would you wish domestic violence on your sister, your mother, your daughter, or are you just willing to put up with it yourself?
Of course, as the news of a Chris Brown/Rihanna reunion spreads, I worry about Rihanna's personal and emotional safety. I worry that she is setting herself up for a vicious cycle of abuse. However, I am almost more worried about the precedent this sets. I'm worried about the young men and women who may use Brown and Rihanna's volatile relationship as an excuse to act the same way. Why is punching your girlfriend okay? Because Chris Brown does it and still tops the charts. Why is staying with a man who hurts you okay? Because Rihanna does it and no one is cooler than she is. This rationale is terrifying. And the only way I see to stop the cycle is to stop these statements from being true. So, world, stop buying Chris Brown's records. And, Rihanna, do not stay with a man who hurts you. Stop the insanity before it's too late. 
Follow Abbey Stone on Twitter @abbeystone
[Photo Credit: Wenn]
More:
Rihanna's Lyrics and Voice 'Shine Bright' in Her New 'Diamonds' Single — LISTEN
Chris Brown Tests Positive for Drugs, Continues on Probation for Rihanna Case
Chris Brown Labeled 'Women Beater' on New CD
From Our Partners:

Caught In the Act: Chris Brown Photographed Leaving Same Hotel Where Rihanna Is Staying — PHOTOS
(Celebuzz)

(Celebuzz)