Chris Brown Whines 'I Can't Win' In New Song, Pretends It's Not About Rihanna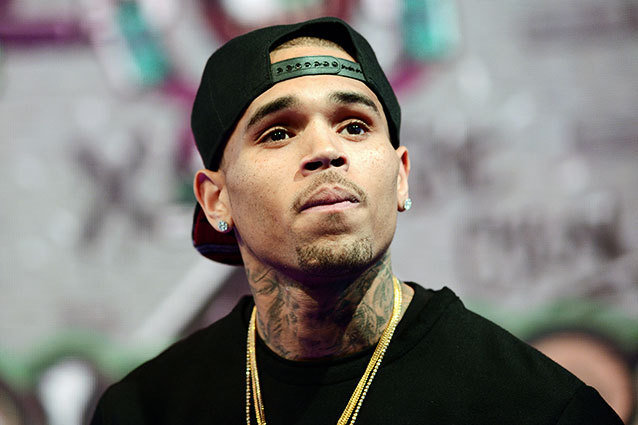 Does Chris Brown finally get it? Has he gone from a myopic fool hell-bent on making the world see things through his eyes to a self-aware artist, painfully cognizant of the way much of the public sees him? Is he finally going to join the conversation instead of rebel against it? Let's be real. Of course not. The new song he released, aptly titled "I Can't Win," is about a journey of emotional struggle. He's not saying it's his emotional struggle, but we kind of think it is. 
I hate to admit it, but "I Can't Win" is a bit of a jam. And the bits about this phantom girl hating him because "the only thing you love is the bottle" can only be questionably linked to his relationship with Rihanna. But when he gets to the chorus, the song gets a little self-serving. "She ain't bluffing, she gon' do it/ I think it's time for me to face the music" followed by "Girl, if you love me, better prove it/I can't win/I can't win." Basically, this girl is a mess (probably an alcoholic) and it's her fault their relationship isn't working. Brown's character is just the poor schmuck who endlessly loves her to no avail.
Now, it's not a one-for-one transferral for his real situation with Rihanna, but based on Brown's behavior in the past and his mission to convince us that he's better now, is it beyond the realm of possibility that he'd feel he can't win with us, the celeb-news-obsessed-public? Wouldn't he seek a cathartic outlet to declare to the universe that, for fault completely not his own (that part's a bit of a fantasy), he's simply doomed? 
Let's add to that the way in which he presented the song, which won't be on his upcoming album. Brown simply tweeted the link to the Vimeo video stating "Some s**t I felt like writing that's not on the album." So, it's not for the album, but the emotions in it are so pressing that he just had to put them into music and share it with the world somehow? The song may not be specifically about his relationship with Rihanna, but I'll be damned if we're to believe his real emotions as a result of that past love aren't in play on this track. 
Listen for yourself and be the judge:
Some shit I felt like writing that's not on the album vimeo.com/65110228

— Chris Brown(@chrisbrown) April 30, 2013

Follow Kelsea on Twitter @KelseaStahler
More:
Did Will.i.am and Chris Brown Steal a Song?
Chris Brown Campaigns for Forgiveness
Chris Brown on His Relationship With Rihanna: 'I Lay Down The Pipe' 
---
From Our Partners:


Beyonce Flaunts Bikini Bod for H&M (Celebuzz)


33 Child Stars: Where Are They Now? (Celebuzz)