Home
Celebrities
Chris Brown Sums Up His Relationship with Rihanna: 'I Just Lay Down...
Chris Brown Sums Up His Relationship with Rihanna: 'I Just Lay Down the Pipe'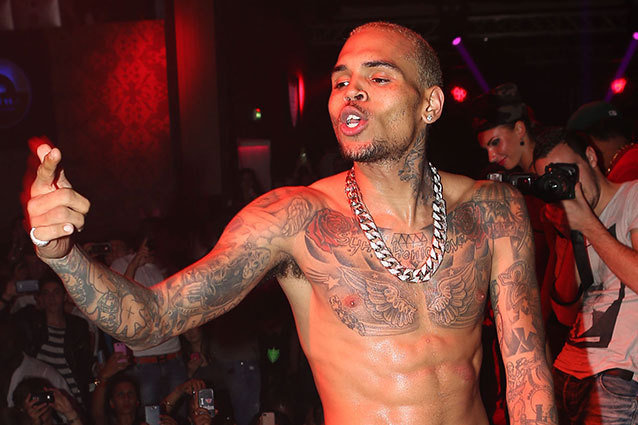 On Monday morning, Chris Brown took to The Today Show to institute a new era for his reputation, urging fans to forgive him and to think of him as a refurbished man who understands the error in his past deeds. But to all those wide-eyed, big-hearted souls out there who might be buying into the recording artist's double talk, here's a reminder of the fact that the "old Chris Brown" is still very much at large.
Brown offered a very different brand of interview with the radio station Hot 97, bound to provoke a dismayed, "Yeah, that's more like it" from the pop culture-affixed public. Whereas Brown told Today's Matt Lauer all about his remorse for his 2009 assault on girlfriend Rihanna and his 2012 fight with fellow artists Frank Ocean and Drake, the 23-year-old singer had some conflicting words to say to Hot 97.
RELATED: Chris Brown: 'Beating Up Rihanna Was Totally Wrong'
"There's a lot of strategies people try to use when they're up for awards. You know? It's the sympathy role," Brown said of Ocean. "I don't have to go that route. I just do my music and do my thing. For [Ocean], it's whatever." Because urging would-be fans to accept your position as a reformed good guy via a daytime talk show interview is hardly begging for sympathy. On the topic of Drake, Brown said, "Me and him don't see eye to eye so it's gonna be what it is … Me and Drake. I can say his name. I don't care. We're never gonna see eye to eye." It's "he and I," Brown. "He and I."
RELATED: Chris Brown Campaigns for Forgiveness
And as far as his relationship with Rihanna goes? Brown's professions of love for the 25-year-old singer/songwriter have been plentiful of late… and you can tell just how genuine he is with language like this: "I just do my thing. I just lay the pipe. I don't talk… I don't pillow talk." What a mensch, this one.
Follow Michael Arbeiter on Twitter @MichaelArbeiter
[Photo Credit: FlameFlynet]
---
You Might Also Like:


15 Oscar-Winning Nude Scenes


10 Insane 'Star Wars' Moments You Didn't Notice