Chris Brown's Twitter Victim Jenny Johnson Gains 20,000 Followers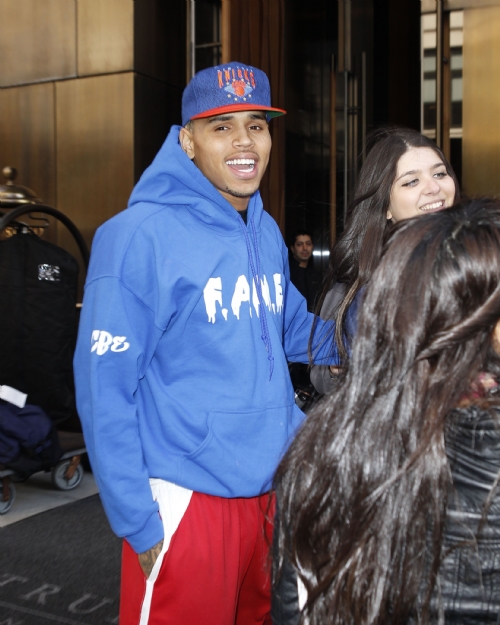 A day after her epic, vulgar Twitter feud with Chris Brown, comedian Jenny Johnson is battling death threats and cuckoo racist allegations. 
But she's also gaining a boatload of new Twitter followers. 
This morning, she had about 310,000 followers but, within eight hours, she had gained more than 23,000. For the most part, fellow CB-haters are tweeting their support to their new hero, who didn't back down, even after the singer said he wanted to fart on her and s**t on her retina. (He's a creative one, that Chris Brown.)
But she's also getting gems like this replied to her:
Best @ replies today:1. Who dis bitch need hop off CB dix!2. She b 50 old eat dic fuh.3. Ima fux dis bitch n da err4. Breeezy b up hoe
— Jenny Johnson (@JennyJohnsonHi5) November 26, 2012
For his part, Brown returned from his self-imposed Twitter timeout after deleting his account and trying to convince fans that he was the one taking the higher road. "To teambreezy … Know that I'm not upset. Just felt like entertaining the ignorance," Brown wrote. "Further proved my point of how immature society is."
Johnson isn't new to the world of Twitter controversy. In May, the comedy writer, who's based in Texas, wrote a story for GQ called, "How to Whore Out On Twitter Without Really Trying" (she had just 200,000 followers at the time). Her tips included: 
"Keep it sassy and sexual. Nothing is off-limits…Occasionally talk about your child and how late his or her father is with child support payments. Always refer to people as "bitches," because it's imperative that you let your followers know how useless and lousy they are. Tweet about drinking, how much you drank, what you drank, how s**t-faced you like to get, and how badass everyone at your local bar thinks you are. Tweet about sports. Call out players for having a bad game. Tell the players what play they should have run, or what you would have done in their situation, even though you are an awful athlete. Then, quote rap songs."
Hey, GQ, it's time to hit Jenny up for an update. Methinks she'll have a lot to talk about. 
Follow Michelle on Twitter @HWMichelleLee
More:
Chris Brown Makes NSFW Poop-Related Insults, Deletes Twitter Account
Rihanna's Controversial Tweet: In Bed with a Shirtless Chris Brown
Chris Brown Avoids Jail After Drake Bar Fight: Winning Again?

12 Hot (And Horrifying) TV Nude Scenes

Hollywood.com's Holiday Movie Guide: Best of the Season!