The Curious Case of Chris Hardwick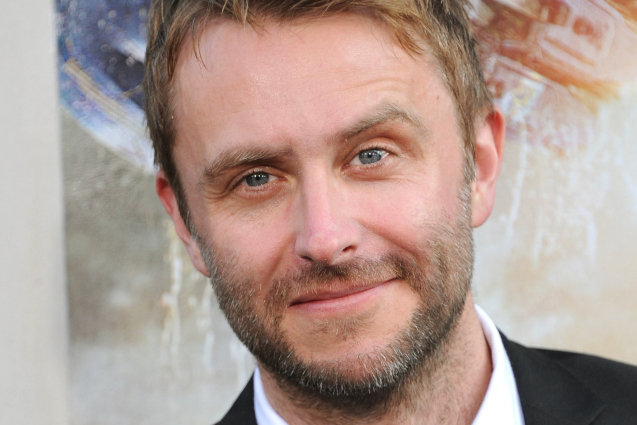 Look at that face. Is that the face of a 41-year-old? No. Chris Hardwick is clearly 17. But take a look at his IMDB page and you'll see that he's been hosting shows since 1993. 20 years ago. So that means he must be aging backwards. Regardless of how his face is aging, you've probably seen it all over the place throughout the years. Let's journey together through a retrospective of Chris Hardwick's career.
Hardwick broke onto the scene and shot into young girls' hearts as co-host of MTV's wildly popular dating show Singled Out in 1995. His dynamic with Jenny McCarthy as the nerdy funny guy and the hot chick who can throw down was a winning combination, so much so that he caught the attention of Aussie model and The Real World: London cast member Jacinda Barrett, whom he was engaged to but never married.
Since Singled Out, he's accumulated a laundry list of steady hosting gigs and acting roles. In 1998, he starred on UPN's comedy Guys Like Us, and appeared in Rob Zombie's House of 1,000 Corpses in 2003 and Halloween II  in 2009. From 2007 to 2011, he voiced Otis the Cow for Nickelodeon's Back at the Barnyard, and is currently the voice of Craig on Sanjay and Craig. And those are just a few of his acting gigs.
Perhaps the most prolific host, talking-head personality, and cameo-maker of the last 20 years, Hardwick has appeared on everything from MTV Spring Break to Hollywood Squares to Boy Meets World. Some regular gigs he's had where he just shows up and is himself include The Late Late Show With Craig Ferguson, Chelsea Lately, and Late Night With Jimmy Fallon. Concurrent with Chelsea Lately and Jimmy Fallon, he hosts Talking Dead and Talking Bad, companion shows to the two AMC giants, Walking Dead  and Breaking Bad. Where does he have the time to do all this?
Besides his many TV appearances and acting roles, he is the co-president of Legendary Films' digital division, which incorporated his former media network, Nerdist. And as if that weren't enough, starting this fall, Hardwick will host a half-hour comedic panel show called @Midnight four nights a week literally at midnight. All of this raises the question: when does Hardwick sleep? And how does he age so well without getting any shut-eye? Could he be a living, breathing key to the fountain of youth? Maybe, maybe not, but he certainly is a hard-working and entertaining guy.