4 Ways Chris Kirkpatrick's Wedding Could Have Been the Perfect 'N SYNC Reunion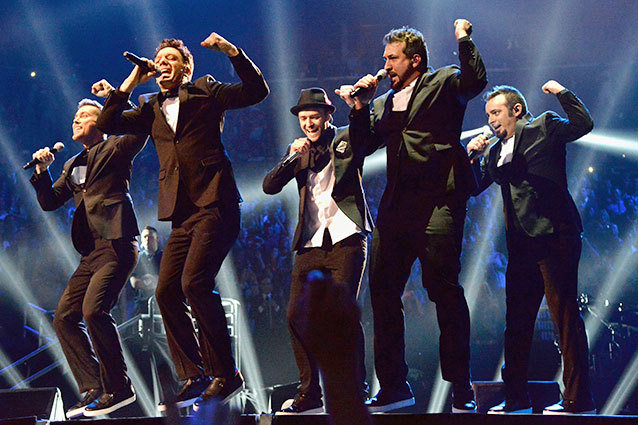 Jeff Kravitz/FilmMagic
Looks like nothing's tearing up Chris Kirkpatrick's heart anymore. The former boy-bander married his fiancée, Karly Skaldany, on Saturday in Orlando, where the couple live together. They dated for three years before Kirkpatrick proposed last October on a vacation to Italy. While we're very happy for Kirkpatrick, and we wish him and Skladany a great deal of happiness, there's one detail about the wedding that we can't help but fixate on: all four of Kirkpatrick's 'N SYNC band mates were in attendance. Justin Timberlake, Lance Bass, Joey Fatone, and JC Chasez served as groomsmen and ushers, and having 'N SYNC together and wearing matching outfits made us think about the many ways that Kirkpatrick could have been inspired by his boy-band days when it came time to plan his wedding. We've come up with four ways that the happy couple could have further incorporated the rest of 'N SYNC into their special day and turned their event into a celebration of both their love and one of the best boy bands of all time. 
1. 'N SYNC knows how to make an entrance. For all of their tours and major television performances, they staged elaborate stage entrances that often involved trap doors, flying rigs and pyrotechnics. Therefore, it would only be fitting that Kirkpatrick channels his 'N SYNC days in order to ensure that his bride's walk down the aisle was one that nobody would forget. Kirkpatrick, the 'N SYNC boys, and the other groomsmen would pop up at the head of the aisle from a trap door in the ground, with each of their entrances punctuated by a dramatic lighting change and a small burst of sparks. Timberlake, being the baby of the group, would likely be the ring bearer for the wedding, and would make his entrance first, with Kirkpatrick appearing last, to the biggest shower of sparks. Then, Skladany could take inspiration from the group's video for "Bye, Bye, Bye" and be flown into the room from the ceiling as if she were a marionette. Finally, when she and Kirkpatrick are together, the start of the ceremony would be signalled by an impressive pyrotechnics display. 
2. The vows are usually the most emotional part of the ceremony, but if Kirkpatrick were to get overwhelmed, he could always rely on his band mates to back him up and sing some beautiful harmonies to punctuate his vows and give him some support. Ideally, Chasez would be officiating the ceremony, and would not only incorporate his signature vocal runs in the ceremony itself, but would also be there to punctuate the more emotional or poignant vows with a well-placed and well-executed riff to ensure that there isn't a dry eye in the house. Once Kirkpatrick and Skladany are done saying their vows, the group would cap things off with a rendition of "This I Promise You" — which also works as a convenient substitute for the vows themselves if Kirkpatrick happened to forget them — while bubbles float softly by in an homage to the video. 
3. Although NSYNC recorded many touching ballads, the band was really known for its choreography and willingness to incorporate a dance break into every appearance. It would seem fitting, then, that Kirkpatrick and Skladany would take a break from their first dance to show off some of the band's impressive choreography. In particular, they could recreate their infamous 2000 VMAs performance, which would allow them to transition from a reprise of "This I Promise You" into a fully-choreographed version of their biggest hit "Bye, Bye, Bye." And since everyone present probably already knows the moves, which would help encourage guests to start tearing up dance floor. Then, the band would transition into "It's Gonna Be Me," and Skladany and some of the bridesmaids could join in the routine, effectively guaranteeing it to be the most impressive first dance that any of the guests will ever witness. 
4. As the funniest member of 'N SYNC, Fatone would be the ideal choice to toast the bride and groom on behalf of the group. Having spent the late '90s and early 2000s in the public eye, there would be plenty of embarrassing material to inspire his speech, which would ideally include a slideshow of all of the band's most embarrassing outfits and at least four jokes about the two-toned dreadlocks that Kirkpatrick sported during the early days of 'N SYNC. He could also recruit Bass to join him, and the two would use their television and radio presenting experience to create a wedding-emcee double act to entertain the guests in between dinner and dancing. However, like many of their famous performances, their microphones will be turned up too loudly at the least opportune moments, leaving Fatone panting over the speakers or play back Bass' part of the harmonies so loudly that it drowns out the rest of the group.