Back in the Band: What Groups Should Reunite?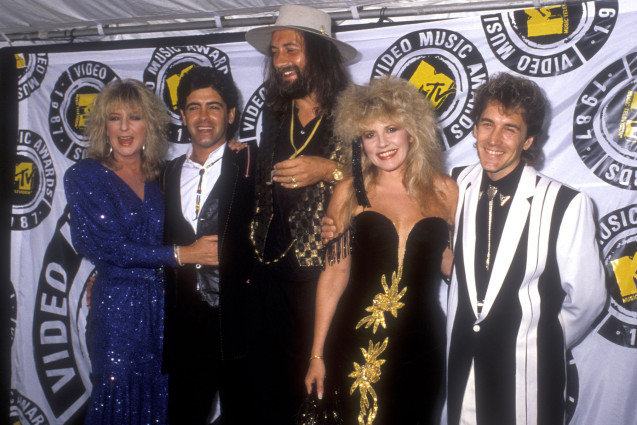 It was announced recently that Christine McVie was reuniting with her bandmates in Fleetwood Mac after leaving the group in 1998. Fans can now be treated again to the group's Rumours-era lineup, with McVie taking back over vocals on her hits like "You Make Loving Fun" and "Hold Me."
With so many musicians cashing in on the money that can be made by going out on the road with a classic edition of their band, it's become hard to find acts that people clamor to have back together. Hard, but not impossible. Here are some artists that we'd like to see back in the band.
Slash, Guns N' Roses
Granted, Axl Rose is a nut-job and a major pain in the tuchus. Still, the demand for a tour featuring Rose, Slash, and the rest of the original lineup of GNR would be unbelievable and the group's core audience is now old enough to afford the ticket prices. If Don Henley, Glenn Frey and the other Eagles can spend years on the road taking separate busses and not speaking to each other, than there has to be a way for Axl and Slash to play nice long enough to cash in.
Beyoncé, Destiny's Child
Beyoncé certainly doesn't need to do anything that she doesn't want to do. Let's face it; Mrs. Carter has the entire world at her disposal. But, here's the thing, she's still friends with Kelly Rowland and Michelle Williams, as evidenced by the recent photos of the three band members together at little Blue's birthday party. Beyoncé just released a 14-track "visual album" that nobody knew about in advance. If she's got that kind of time, then surely there's some extra to lay down some new DC material.
Roger Waters, Pink Floyd
Every subsequent generation has its own Floyd experience, whether it's watching late-night showings of The Wall or synching up Dark Side of the Moon with The Wizard of Oz. Waters is a creative genius, and notoriously difficult to work with. He's also 70 years old. Waters and the other surviving Floyd members (David Gilmour and Nick Mason) have done some one-off shows over the years, but it's not too late to give those younger fans one more chance to see one of Floyd's legendary live shows.
Steve Perry, Journey
There have been rumors for a long time that Perry's voice isn't what it used to be, which is why the singer hasn't released any new solo material in nearly 20 years. Perry's camp has denied that there is anything wrong with his voice, but even if there is a vocal issue, a reunion is still eminently doable. Arnel Pineda, the current lead singer of the band, has been a nice story, so keep him around to help supplement Perry. It's a little late to cash in on the hype that Glee created, but the band still might actually be more popular now than they were in their '80s heyday.
Dennis DeYoung, Styx
At the very least, this one would make Adam Sandler, an unabashed fan of the "Mr. Roboto" group, happy. DeYoung, who handled vocals on most of the band's biggest hits like "The Best of Times" and "Come Sail Away," has continued to perform Styx material in his shows and the other members of the group have long been on the fair and festival circuit. Sure, DeYoung sued the others at one time over the use of the band's name, but lawsuits are as much a part of the music industry as guitars. A reunion would at least upgrade them to the top county fairs in the country.