Home
Celebrities
Cirque Du Soleil Teams Up With Skrillex For EDM Las Vegas Nightclub
Cirque Du Soleil Teams Up With Skrillex For EDM Las Vegas Nightclub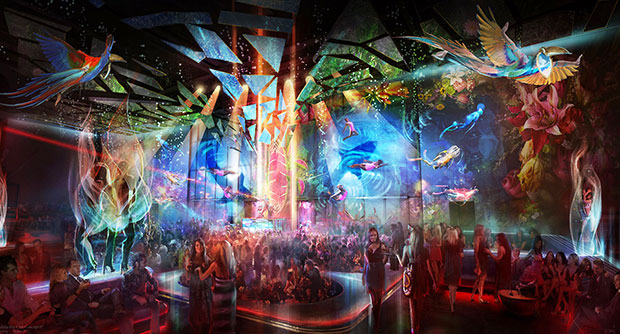 Cirque Du Soleil has just signed Skrillex as well as other big-name DJs to do residencies at its new Las Vegas nightclub. LIGHT Nightclub opens April 26 at the Mandalay Bay and will feature theatrical elements not normally found in a club but which are par for the course at a Cirque Du Soleil or Electronic Dance Music show, like dangling contortionists and complicated light shows.
"The LIGHT Skrillex show is going to be only in Vegas," Skrillex says. "I want it be distinct to the LIGHT club because the configuration is so customizable, it's f***ing crazy. That's the thing about the club, too: they can do anything, so it's how you maximize the dynamic of a great show with all their f***ing bells and whistles and all of their budgets and resources to do anything."
Other DJs who have joined the Grammy-winning dubstep artist in signing up with the club for residencies are Sebastian Ingrosso, Alesso, Baauer, and Zedd, who calls LIGHT "a theater play with music." Each artist's residency will incorporate all new lights, acrobats, music, and change up the overall experience. Ingrosso, who is touring with his group Swedish House Mafia one last time before the group breaks up for good, is looking forward to taking his solo career back to the club dance floor.
RELATED: Will Daft Punk's New Album Be Harder, Better, Faster, Stronger?
"Production on dance shows has been escalating for a long time now. Swedish House Mafia shows have been something we build for months before a tour," he says. "But this is putting the production layers back where this all began: the club dance floor. This isn't a huge arena, this is a club, and the vibe in a club is very different and special. This isn't escalating up, this is it taking it back to the dance floor and we'll all see where it takes us and enjoy it."
EDM has always been a part of the Las Vegas scene, with big name DJs playing sets at all the nightclubs on a regular basis, but now EDM fans have a permanent place to frequent on the strip. With residencies from some of the biggest names in the industry, EDM can now add Vegas to the list of places it has infiltrated, along with TV (DJ Steve Aoki is guest starring as himself on an episode of The CW's Arrow), the radio (Swedish House Mafia's "Don't You Worry Child" is one of many EDM songs featured in the Top 40 hits), movies (Project X was basically one long EDM music video), and the music industry itself (more and more EDM artists have been nominated for Grammys and other music stars are collaborating with more EDM artists). EDM world domination is almost complete. You've been warned.
[Photo Credit: LIGHT Nightclub]
Follow Sydney on Twitter @SydneyBucksbaum

Oops, Britney Spears Goes Braless Again — PHOTOS (Celebuzz)

30 Hottest Lingerie Scenes From the Past 30 Years — PHOTOS (Celebuzz)