It's No Joke! Comedians Who Take Their Music Career Entirely Seriously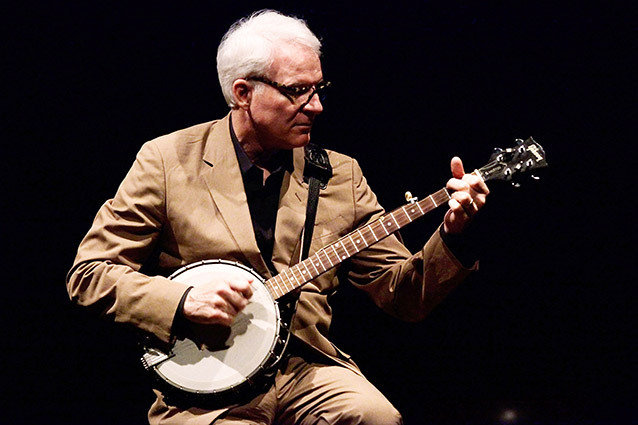 Joe Kohen/WireImage
From The Lonely Island to Tenacious D to Flight Of The Conchords, the separate worlds of comedy and music continue to keep colliding but some funnymen and funnywomen prefer to keep their two distinctive talents separate. Here's a look at five comedians-turned-musicians who left the jokes behind when they stepped inside the recording studio.
While those outside the UK will know him best as grumpy doctor House or the father in Stuart Little, Hugh Laurie started his career as one half of a hugely popular comic partnership with Stephen Fry. After performing in charity covers outfit Band From TV, he then launched a surprisingly popular New Orleans blues-inspired solo career, reaching the US Top 30 with both 2011's Let Them Talk and 2013 follow-up Didn't It Rain.
Despite a debut produced by funk legend Rick James, a follow-up produced by Chic's Nile Rodgers and a third featuring a duet with none other than Michael Jackson, Eddie Murphy's pop career is only ever remembered for the enjoyably ridiculous US No.2 hit, "Party All The Time." Perhaps wisely giving the whole acting malarkey a rest having picked up four Razzie nominations in six years, he's now hoping to change all that with an equally baffling reggae-led collaboration with Snoop Dogg.
Having showcased his banjo skills on his late '70s/early '80s comedy albums, Steve Martin then picked up a Grammy Award in 2009 when he released his first entirely musical studio effort, The Crow: New Songs For The 5-String Banjo. A recent joint effort with Edie Brickell, Love Has Come For You, almost cracked the US Top 20.
While there was undoubtedly a kitsch element to Tracey Ullman's retro pop covers, the British comedienne played her music career mostly straight, even reaching the Top 10 on both sides of the Atlantic with a rendition of Kirsty MacColl's "They Don't Know" before packing in her singing ambitions following the commercial disappointment of 1984's You Caught Me Out.
Childish Gambino
Formerly a writer on 30 Rock, Donald Glover then found fame in front of the camera as Troy Barnes on Community before defying all the odds and making that rare successful transition from TV to hip-hop with two acclaimed mixtapes and a nerd-embracing concept album, Camp, under the moniker of Childish Gambino.
More:
Great Artists With Only One Album To Their Name
Rappers Who Deserve The Biopic Treatment
3 Ways Miley's Career Could Go Based On Her Rolling Stone Interview
---
From Our Partners:


40 Most Revealing See-Through Red Carpet Looks (Vh1)


15 Stars Share Secrets of their Sex Lives (Celebuzz)