Comic-Con 2012: Official Lineup Highlights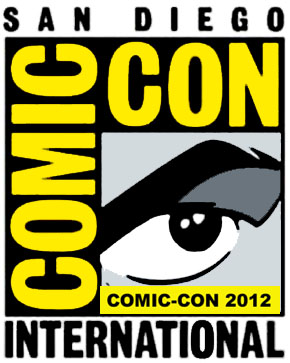 With the official announcement of Sunday's activities, San Diego Comic-Con finally has its full line-up. And boy oh boy is it ever chock-a-block with things to do. For those not easily overwhelmed, we've broken down the highlights that will no doubt bring in tons of spoilers, revelations, exclusives, and news about our favorite television shows and movies. The comic convention has quickly turned into THE place to reveal information to a highly-rapturous nerd-and-geek-a-palooza in addition to the discussion of the comic book and fandom worlds.
So take a look at the highlights below and get your schedules ready–it's definitely going to be tight to manage seeing everything worth attending. Does anyone have an extra time-turner handy?
Wednesday
For those lucky enough to get into the preview night, there is a nearly 4 hour block of pilot screenings that include ABC's 666 Park Avenue, CW's Arrow, FOX's The Following, NBC's Revolution, and CW's Cult.
Thursday
Thursday morning starts off with several panels, including an hour of movie trailer screenings. The cast and crew from The Twilight Saga: Breaking Dawn – Part 2 will be on-hand to present a sneak peek at the film followed by a Q&A. Disney hosts a panel featuring Tim Burton and his Frankenweenie, Sam Raimi and Oz The Great and Powerful, and Wreck-it Ralph. John C. Reilly and Sarah Silverman will also be there. To round out the afternoon, Teen Wolf of the MTV variety and USA's Psych will also have panels going. The CW's Beauty and the Beast has a panel during the evening, and the zombies will be out for The Walking Dead's early evening discussion. Wilfred's team will have an hour to chat about the FX-by-way-of-Australian television show, and CBS' Elementary will serve you some behind-the-scenes clues into the show for Sherlock and Watsons everywhere. On the movie front, The Expendables 2 will talk about the action and and explosions experienced by on-hand stars Sylvester Stallone, Arnold Schwarzenegger and more. Jon Benjamin has his first panel of the weekend to discuss Archer before the folks from Dexter chat about the world's most lovable serial killer, in what promises to be filled with tons of details about the upcoming season. Comedy Central gets in on the fun with a discussion with the boys from Workaholics before everything ends with a lively sing-along featuring Neil Patrick Harris' internet sensation, Dr. Horrible's Sing-Along Blog.
Friday
Community brings the cult-favorite's cast to San Diego for what will be an undoubtedly kooky and obscure pop culture reference-laden event, while the bronies will be found at a My Little Pony: Friendship is Magic (I know!) panel. Nickelodeon's buzzified new show Legend of Korra takes a stab at the comic-con circuit, as well as CW's midseasoner Cult. Fans of Adult Swin have several panels running on Friday, and Big Bang Theory gets an upgrade to the prestigious Hall H for its cast chat. Things are a little bit creepy in honor of the superstitious Friday the 13th, with a panel for ABC's 666 Park Avenue, as well as several other horrific sessions. In curious music-related news, Chris Martin and the Coldplay crew will be on hand to chat about the alleged secret narrative behind their album Mylo Xyloto that has turned into a comic miniseries. Interesting! At lunchtime, The Walking Dead will raise you from the undead before David Boreanaz and Emily Deschanel talk the Bones season seven shocker. Elijah Wood will be there to discuss his voice work on Disney's Tron: Legacy series before afternoon highlight and sure-to-be-packed-to-the-gills Game of Thrones panel moderated by series-and-novel creator George R.R. Martin. A portion of the cast: including Jon Snow, Theon Greyjoy, Cersei Lannister, Robb and Catelyn Stark, and Daenerys Targaryen will be on hand to dish on winter's impending arrival. White walkers!
Think you're done yet? Oh no, my friends, there's much more–including Bob's Burgers, a preview of Resident Evil: Retribution, and a panel discussing kick-ass ladies featuring Kristin Bauer van Straten, Sarah Wayne Callies, Kristin Kreuk, Nikki Reed and Anna Torv. Wil Wheaton will serve up a Q&A for Falling Skies.
Sony heads up a huge two-hour panel featuring their upcoming films, including the reboot of Total Recall with Colin Farrell, Kate Beckinsale, Jessica Biel and Bryan Cranston on stage, as well as Joseph Gordon-Levitt's futuristic Looper, and Neill Blonkamp's Elysium featuring Matt Damon and Jodie Foster.
Phew! But we're not done yet, America. Oh no. Joss Whedon and Anthony Bourdain both have panels during the evening portion, before Bryan Cranston has another panel with his hit show Breaking Bad. Cult-favorites that ended-too-soon for some fans (Dollhouse, FlashForward, Firefly, and The Middleman) have their own panel — with Firefly's hosted by the Science Channel — about what the writers wish they could've shown before Resident Evil: Damnation has a 7-minute sneak preview event with a subsequent Q&A.
Saturday
Saturday starts out strong with a panel for next year's Will and Jaden Smith film/comic book, After Earth. G4's Attack of the Show comes up next with a behind-the-scenes look at the nerd-favorite. Then it's a trip to Storybrooke, where the cast of Once Upon A Time will chat about the magical show. Keep an eye out, as Ginnifer Goodwin, Lana Parrilla, and Emilie de Ravin will all be on hand. Felicia Day and Wil Wheaton are hosting a Geek & Sundry panel that promises big-time announcements that Wheaton fans will sure to delight over for days after. Lizzy Caplan, Alison Brie, Martin Starr, and Geoffrey Arend will all be on-hand to discuss their new film Save the Date, which tells a contemporary story of modern love using the style and tropes of comic book storytelling to make the movie. A highlight of Saturday morning is definitely the sneak-peek of Django Unchained, featuring a Q&A with Quentin Tarantino and the cast. Futurama also has a panel on the day, as well as Chris Hardwick's ever-popular Nerdist empire. But Saturday's shenanigans don't stop here–we're barely even through lunchtime, you guys–other panel highlights include The Simpsons, Jake Gyllenhaal will discuss his new film End of Watch, and the crew from Family Guy will also chat up the convention. There's a panel each for the folks from Grimm, Being Human, and Vampire Diaries, to discuss the supernatural dramas second, third, and fourth respective seasons. The Shameless cast talks drunken shenanigans and family calamities before the evening takes off with the big guns. On the TV front, True Blood, Glee, MythBusters, and Cinemax's Femme Fatales all get their own Q&A time. Movie highlights in the evening include Iron Man 3 and Person of Interest. Nerd hero Kevin Smith also has his own panel.
Sunday
The day starts off strong with a Fringe panel featuring stars Anna Torv, Josh Jackson, Lance Reddick, Blair Brown, Jasika Nicole, and John Noble. After that, things get Supernatural with Jared Padalecki and Jensen Ackles, but continue with an alleged "earth-shattering announcements that will change the life of Peter Parker [aka Spiderman] for another 50 years" in a panel featuring the Marvel crew. Intrigue! By then it's lunchtime and the cult-favorite Doctor Who will premiere some exclusive content in preparation for the upcoming season of the BBC hit. Seth MacFarlane will be on hand to premiere the first episode from season four of The Cleveland Show. In an attempt to make us all feel 100 years old, there will be a 20th anniversary celebration/panel for Buffy the Vampire Slayer which will feature surprise guests and the original movie Buffy, Kristy Swanson, as well as stars Nicholas Brendon and Clare Kramer. There will also be a separate screening of the musical episode later on in the afternoon. FX favorite Sons of Anarchy will also take an hour on the stage, as well as a panel on the Harry Potter fandom.
Phew! Information overload much? For those of you that are going, which of these panels are you most excited about? For those not attending but keeping score, which panels do you think will be the true highlights? Let us know in the comments!
Follow Alicia on Twitter @alicialutes
More:
Firefly cast to reunite at Comic-Con
The Future of Marvel Movies Looks Absolutely Insane
Hollywood.com at Comic-Con 2011