Could Lindsay Lohan's Latest Arrest Put Her Behind Bars?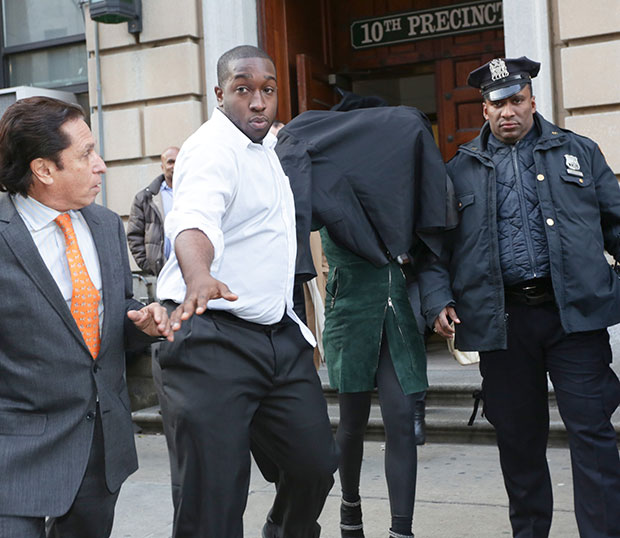 An orange jumpsuit may once again be in Lindsay Lohan's future. The Liz and Dick star's latest arrest and charges — one a misdemeanor assault charge associated with a fight she had with a woman at a New York City night club on Thursday, and three others misdemeanors associated with her June car crash in Santa Monica, Calif. — could mean more jail time for Lohan. Jenny Carroll, Associate Professor of Law at Seton Hall University School of Law who specializes in criminal law and criminal procedure but has no affiliation with Lohan's case, tells Hollywood.com that Thursday's arrest could cause a judge to modify the 26-year-old's informal probation, perhaps sending her back behind bars.
"I don't know exactly what the terms of her probation are, but basically a standard term of probation is not only that you not be convicted for violating the law but that you not be arrested," says Carroll. "So yes, absolutely under a standard probationary document it would not be surprising at all if the arrest alone, without a conviction, would affect the terms of her probation."
RELATED: Hair Today: In Which We Get to the Root of Lindsay Lohan's Problems
Carroll explains that a probation officer would have been notified of Lohan's arrest in New York when it happened, and then it would be his job to look into whether Lohan's arrest was meritorious, meaning that it actually happened and whether the violation warrants what is called a probation modification. From there, Lohan's fate is placed in the hands of a judge, who could decide to do as little as issue Lohan a warning or as much as set a minimum period of jail time.
According to Carroll, someone in Lohan's position would have an opportunity to contest the probation modification. "Now, she can come in and show some evidence that the arrest is completely without foundation, that the charge is false or the charge was improperly made, she might be able to convince the judge or the probation officer that it doesn't warrant modification," says Carroll.
RELATED: Here We Go Again: Lindsay Lohan Arrested for Assault
"But a lot of defendants are reluctant to do that because she is doing all of this before she actually goes to trial on the charge that forms the basis of the arrest," she says. "So [Lohan] may feel like, 'Gosh, I don't want to dip my hand into what my potential defense is ahead of time if all we're talking about is a probation modification.'" Carroll continues, "The other way it may affect her is outside the context of probation, which is that it may affect her conditions of release for the New York charge, the fact that she's on probation in another jurisdiction." It's a complicated web Lohan has woven for herself — one that might not be so easy to untangle unscathed. 
Lohan's attorney, Shawn Holley, was not responsive to Hollywood.com's request for comment. (Reports quoting Mark Heller as Lohan's lawyer are false — a rep for Lohan confirmed with Hollywood.com that Heller does not represent the actress.)
Follow Abbey Stone on Twitter @abbeystone
[Photo Credit: INFphoto]
---
You Might Also Like:


15 Oscar-Winning Nude Scenes


Young Jack Black Is Totally Unrecognizable