Courteney Cox On Relationship With Ex-Husband David Arquette: 'I Appreciate [Him]'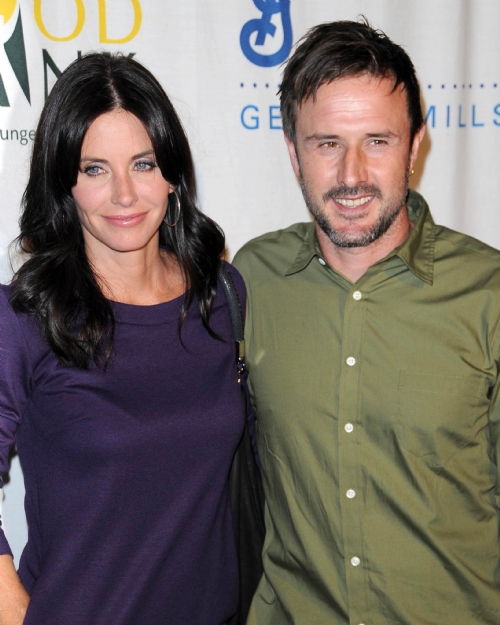 Courteney Cox is revealing quite a bit these days. And no, we don't just mean how the 48-year-old actress declared at a Television Critics Association panel over the weekend that she'd be showing a lot of cleavage on the upcoming season of Cougar Town. Rather, how Cox talked openly about her ex-husband David Arquette during an appearance on The Ellen DeGeneres Show. 
During the chat, which airs this Monday on NBC (check local listings), the former Friends star told the daytime host, "He's my best friend in the world…I love him." The pair, who started dating back in 1996 when they met on the set of Scream and married in 1999, filed for divorce back in June after having been separated since 2010. The two split custody of their 8-year-old daughter Coco. 
"I appreciate David more now than I ever did," she said of Arquette, 41, later adding, "I think we both appreciate each other more. I hope he does. I do." While the two appear to be on good terms, Cox admitted the split is still not an easy thing  for her and her family. "I mean … it's hard. I don't recommend divorce in general, but, you know, he is my best friend and we've both grown and changed." 
Even though it's sad about these two (wasn't this a Hollywood couple we were all actually rooting for to work out?) Cox's fans will, at the very least, get to watch her character Jules enjoy married life when Season 4 of Cougar Town begins on Tuesday, January 7 at 10 PM ET on its new network TBS. 
[Photo credit: DailyCeleb.com] 
More: 
David Arquette Files for Divorce from Courteney Cox

20 Hottest Bikini Bodies of 2012: Katy Perry, Miley and More!