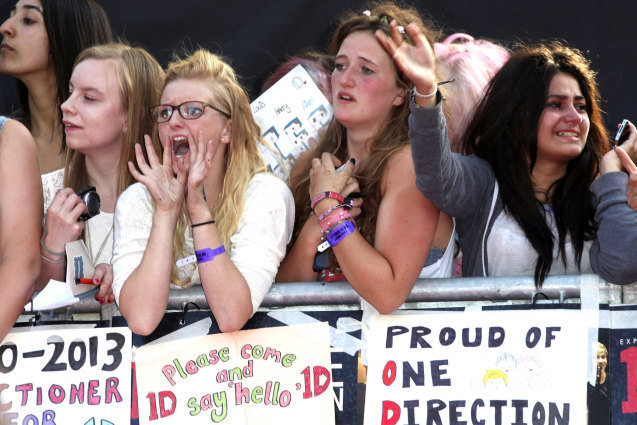 WENN
Every pop star worth their buzzbucks has a fan army these days. Justin has his Beliebers, Queen Bey has her Beyhive, Little Monsters report to Lady Gaga and Rihanna has her Navy.
Teenypopper Austin Mahone knew to thank his Mahomies in his recent VMA 'Artist to Watch' award. After all, with almost 4 million of them following his every move on twitter (and voting hard), it's important to keep your crazy fans sweet.
Justin Bieber's craziest fan is probably the 16 year-old from New Zealand who bought a water bottle he used for $624. Although the post blunt-gate web campaign that saw Beliebers urging their fellow fans to #cutforbieber was pretty disturbing and upped the crazy for fan armies everywhere.
One Direction's Directioners have overtaken Beliebers in the psycho stakes – so much so that, aside from the 3D feature film This Is Us, they recently had their own documentary, Crazy About One Direction, air in the UK, depicting the truly insane 'Larry Stylinson' fantasy meme in which Directioners 'ship' Louis and Harry's (non-existent) gay romance.
This Little Monster stealing Ma Monster's mic goes down in the crazy fan hall of shame.
.
But Gaga had to intervene and call for peace following her Little Monsters' recent online attacks on Katy Perry and Perez Hilton, saying "Let's make 2013 a year where music/talent/artistry is more important than gossip/fanwars I respect all fanbases 4 their passion #BeTheChange"
Well, fan armies of millions are great; but less famous fan armies are no less obsessed. Stupidity crosses all language barriers and continental divides. Just because this show's in German, doesn't mean you can't LOL as a grown man commits to his 17th Miley tattoo. (Isn't it humiliating enough that Cyrus fans are called 'Smilers'?)
More:
What Your Favorite Boy Band Means
Why Does One Direction Get Away With Overly Sexual Behavior?
Lady Gaga's 'Applause' vs. Katy Perry's 'Roar'
---
From Our Partners:


40 Most Revealing See-Through Red Carpet Looks (Vh1)


15 Stars Share Secrets of their Sex Lives (Celebuzz)