Daft Punk to Debut New Album at Aussie Agricultural Wee Waa Show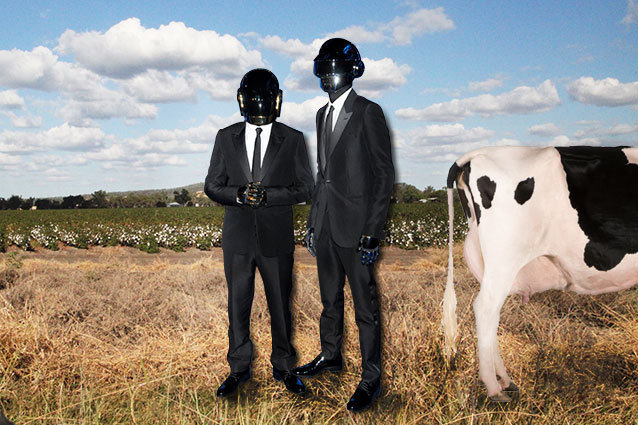 Things in the cotton capital of Australia are about to get ca-razy, y'all! The town of Wee Waa (there will be no Borat jokes in this article) has nabbed itself quite the musical guest for this year's Wee Waa Show — an annual agricultural event held in this wee shire. International electronic superstar group Daft Punk will be headlining and playing their new album, Random Access Memories, in its entirety. Say what? Man, how jealous are neighboring enclaves Pilliga and Gwabegar feeling right now, you think?
And they should be jealous. Because I'll be damned if this event doesn't have all the typical Australian country show entertainment one could only hope for in 2013. This includes treasured Wee Waa pasttimes such as the "pet show, showgirl competition, cross cut saw competition, [and] fireworks." But that's not all, you guys, because Wee Waa knows how to paaaartaaaaaaay! The shenanigans will continue bumping throughout the entire weekend, with horse events, clown troupe, an ute muster (Americans, please Google "ute musters"), and the baby show expected to bring down the house.
Should you fancy a more subdued weekend after listening to Daft Punk on the fair's Friday evening events programme, worry not, because there's something for everyone. The town of Wee Waa also has an America's Got Talent-style competition show — complete with show luncheon (some things never change, eh, former British colonies?), followed by displays of strength and anger against trees in the wood chop competition, and something called "buzz's lolly drop," which I've been assured is a real hootenanny. For those worried that the presence of the Punks would cut out the weekend's most popular events, have no fear: the farmers challenge, demolition derby, and mouse racing competition are still on.
According to a quote in local paper the Narrabri Courier, Show Society president Brett Dickinson explained how the duo was — what we call in the 'biz — a big get for The Show. "It's great for Wee Waa and fantastic for the shire … we thought getting senator Fiona Nash to open the show was a bit of a coup, but now, our show program has been bolstered tenfold."
Fiona Nash AND Daft Punk in the shire at the same time? This place really does have everything! In fact, if the Wee Waa Show was hosted in a white fish factory on Manhattan's upper lower side (maybe near Little Isreal?), it would be a punchline on SNL's Weekend Update. But no, it's better than that — because it's real.
If anyone wants to fly me to Wee Waa to rub shoulders with the locals and partake in their seemingly excellent taste in recreational activities and good times, feel free. The weekend-long event kicks off on May 17, 2013.
Calgon, take me away. To Wee Waa!
Follow @AliciaLutes on Twitter
More: 
Will Daft Punk's New Album Be Harder, Better, Faster, Stronger?
Compose Yourself! M83 Scores 'Oblivion'
Accidental and Actual Racists Respond to 'Accidental Racist'
---
From Our Partners:


Eva Longoria Bikinis on Spring Break (Celebuzz)


33 Child Stars: Where Are They Now? (Celebuzz)