Danny DeVito and Rhea Perlman Are Back Together, So Love Is a Thing After All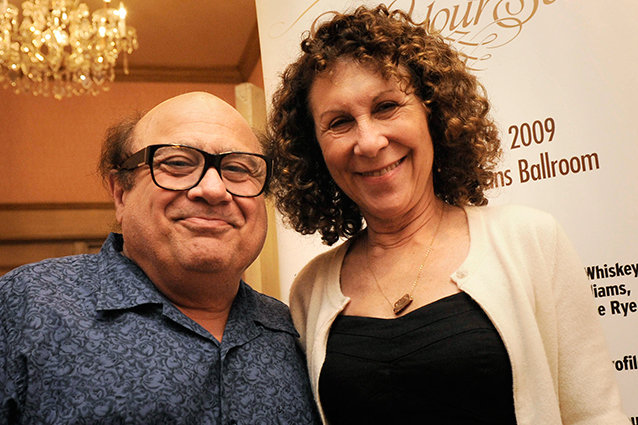 No longer will we need to dust off elementary school Valentine's cards to instill within ourselves the very idea that love is an attainable conquest. No longer must we hang tight to the affectionate scribblings of Tracy Zeneloff, who launched our 8-year-old hearts to elysium with the sugar-coated requests of "Be Mine." No longer will we play the incognito voyeur through the springtime park as young couples not yet jaded share rollerskating tips and ice cream scoops. We have a new stock in which to invest our belief in true love: People reports that Danny DeVito and Rhea Perlman are back together.
RELATED: Miley and Liam Still Engaged: Are Young Celeb Marriages Doomed from the Start?
It took us months to recover from the harpoon-in-the-chest that was the longtime couple's announcement that they would be separating after 30 years of marriage back in October. We retired to the asylum of unlit basements, Toni Morrison literature, and our own scornful reflections. We didn't know for sure if we might ever overcome the news that the It's Always Sunny in Philadelphia star and Cheers vet were no longer a collective force, perpetrating the antithesis of the celebrity couple stereotype. But this episode has taken to instilling an even greater faith in their stamina. Sure, they've hit a bump — what pair among us hasn't? But they've endured. They've maintained. They've conquered. They've given us reason to think that maybe, just maybe, love isn't the Hallmark illusion that it so very often seems to be.
Now if you'll excuse me, I'm going to go draw outside with sidewalk chalk and blast Katrina and the Waves.
Follow Michael Arbeiter on Twitter @MichaelArbeiter
[Photo Credit: Cheryl Gerber/AP Photo]
---
You Might Also Like:


Topanga's Revealing Lingerie Shoot: Hello '90s!


15 Hot Sci Fi Sex Scenes