Dave Chappelle and Chris Rock Performed Together Last Night and You Weren't There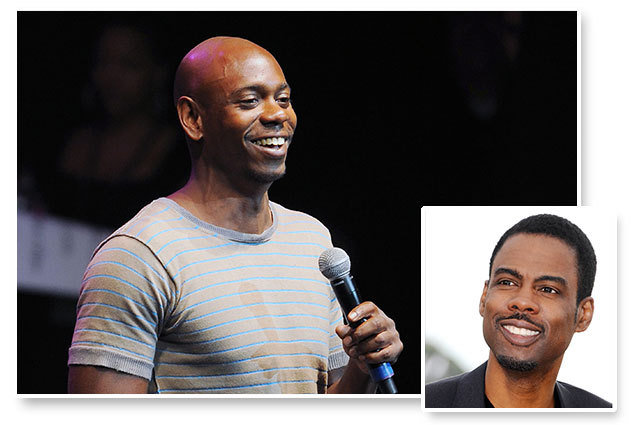 Remember when you made that New Year's resolution to get out more, experience more things? Go to a nightclub, see a comedy show. Well, if you live in New York City and didn't go to the Comedy Cellar on Tuesday night (geez, what were you thinking?), you're probably going to be kicking yourself, since Chris Rock and Dave Chappelle did an impromptu, unannounced set together and you weren't there to witness it.
According to The Comic's Comic, Chappelle dropped in after the night's regularly scheduled comedy for a 45-minute-long set. But that wasn't all — just when Chappelle was getting ready to leave the stage, Rock jumped up and the pair riffed with each other for an hour.
RELATED: Dave Chappelle Working on a New TV Show?
Topics the comedy royalty touched upon included the Oscars, Kevin Hart, Prince, Jay-Z, Barack Obama, fast food, and the very real possibility of the pair hitting the road together officially. Chappelle convinced Rock to text Jay-Z at 1:30 in the morning, witnesses report, but when Jay didn't respond they called Arsenio Hall and Lenny Kravitz and left voicemails.
But wait, there's more! Apparently right before they were about to leave (again), Marlan Wayans came in, and Rock and Chappelle brought him onstage for a 15-minute interview. Rock and Wayans headed out, leaving Chappelle alone onstage yet again, and you kicking yourself for not being there.
Follow Jean on Twitter @hijean
[Photo Credit: Wenn (2)]

---
From Our Partners:

Kate Upton Bares All In Body Paint (Celebuzz)


33 Child Stars: Where Are They Now? (Celebuzz)