David Beckham to Play One Last Game Before Ending Soccer Career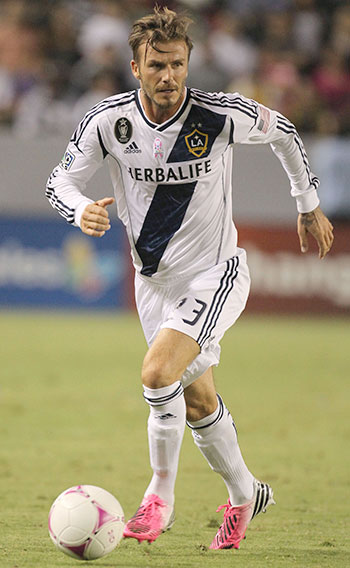 There comes a time in every athletes' career when he or she has to step down from the active playing fields and be satisfied with the career behind him or her. For soccer star David Beckham, that time is upon him — and Monday, he announced that he will be leaving the LA Galaxy team after his final game, the MLS Cup 2012, on Dec. 1.
"I've had an incredibly special time playing for the LA Galaxy, however, I wanted to experience one last challenge before the end of my playing career," Beckham said in a statement post on the LA Galaxy's website.
But Beckham — who is married to former Spice Girl Victoria Beckham and father to sons Brooklyn, 13, Romeo, 10, Cruz, 7, and daughter Harper, 1 — won't be completely done with the game. "I don't see this as the end of my relationship with the league as my ambition is to be part of the ownership structure in the future," he said. "In my time here I have seen the popularity of the game grow every year. I've been fortunate to win trophies, but more important to me has been the fantastic reception I've had from fans in L.A. and across the States. Soccer's potential has no limits in this wonderful country and I want to always be part of growing it."
During his six seasons with the LA Galaxy, Beckham played in 98 regular season games, scored 18 goals, and aided in 40 assists. He also helped the team to three MLS Cup berths and to win the championship in 2011.
"Seldom does an athlete redefine a sport and David not only took our franchise to another level but he took our sport to another level," said Tim Leiweke, President and CEO of AEG (Anschutz Entertainment Group). "It has been an honor and privilege to be a part of his world, and more importantly, to have him be a part of ours."
MLS Commissioner Don Garber added: "When David Beckham signed with the LA Galaxy in 2007, he set out to help grow MLS and the sport of soccer in North America. There is no doubt that MLS is far more popular and important here and abroad than it was when he arrived. David has achieved great things on and off the field during his time with the Galaxy, and he will always be an important part of our history. We look forward to his continued involvement with the LA Galaxy and the League."
Follow Lindsey on Twitter @LDiMat.
[Photo Credit: Rex USA]
More:
Harper Beckham Offered Modeling Deal: What She Can Learn From Mom
Victoria Beckham: Justin Bieber Thought My Son Was A Jolie-Pitt Kid
The Daily Shuffle: Beyoncé Makes First Public Appearance One Month After Giving Birth

American Music Awards 2012: The Complete Red Carpet Arrivals (PHOTOS)
(Celebuzz)

Justin Bieber, Selena Gomez Seen Together at American Music Awards After-Party
(Celebuzz)