David Bowie Makes a List of 42 Words — How Could He Leave Out 'Sarcophagus'?!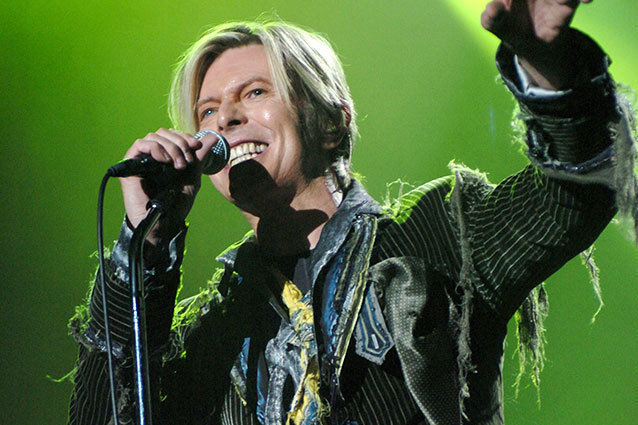 Remember when David Bowie put behind him the days of jammin' good with Weird and Gilly, abandoned the identity we once saw headline The Man Who Fell to earth, distanced himself from that Diamond Dogs cover, and just became a regular guy? You know, the kind of fella who can talk openly about his new projects with phrases like, "Yeah, I'm really excited about it!" and "I can't say much, but I think the fans will be impressed." No, you do not remember that. Because David Bowie, in keeping with the alien spirit that controls his mind and body, is still very much an out-of-whack kook. Which is why we love him.
And it's why some of us really love him. Take novelist Rick Moody, who plead with Bowie to release a description of his latest album The Next Day. While your ordinary self-promoting musician might take this opportunity to bark elation over the new release or subtly plug his sociopolitical causes, Bowie took a much Bowier route. He bequeathed unto Moody a list of 42 words, shared by the author in his latest The Rumpus essay, alleged to describe the themes of The Next Day… but it moreover just makes us say, "What the f**k, Ziggy?"
Peruse, and emote:
Effigies
Indulgences
Anarchist
Violence
Chthonic
Intimidation
Vampyric
Pantheon
Succubus
Hostage
Transference
Identity
Mauer
Interface
Flitting
Isolation
Revenge
Osmosis
Crusade
Tyrant
Domination
Indifference
Miasma
Pressgang
Displaced
Flight
Resettlement
Funereal
Glide
Trace
Balkan
Burial
Reverse
Manipulate
Origin
Text
Traitor
Urban
Comeuppance
Tragic
Nerve
Mystification
Befuddled? You're not alone. But believe it or not, this single-column diatribe elicited a good deal of whimsy from Moody: he freakin' loved it, calling the list "exactly in the spirit of this album," and "far better than [he] could ever have hoped." Moody even goes on to specify the formatting of Bowie's original list ("Bowie's list was left-justified, but probably because he didn't want to take the time to center justify, and also his list was purposefully double-spaced") before delving into analyses of each and every one of the 42 words as it might pertain to the Next Day, to Bowie, or to this nebulous plane of existence in general. Enjoy here.
But as vehement logophiles, we've got a begrudging affinity for this nonsensical list. Maybe this sort of myriad pillar is exactly the sort of approach we should take to reviewing other albums. And movies. And television shows. And everything.
So, without further ado, Hollywood.com's first attempts at tackling contemporary pop culture… using the Bowie Method:
Justin Timberlakes's Album The 20/20 Experience
Tomfoolery
Petticoat
Align
Tunisia
Subterfuge
Polyp
Yesteryear
Umbrella
Night
Alkaseltzer
The Tom Cruise Movie Oblivion
Wildebeest
Marionette
Parenthetical
Whirlpool
Elongated
Sandal
How
Cornucopia
Irrigation
Cloying
Last Week's Episode of Mad Men
Barley
Spaceship
Menu
Gentrification
Rabid
Dolomite
Varsity
Yardstick
Trinomial
Goblin
Get used to it, people. This is the wave of the future.
Follow Michael Arbeiter on Twitter @MichaelArbeiter
More:
David Bowie Teases New Single, Proves He's Still Incredible
David Bowie Releases New Single "Where Are They Now?"
Lil Bub Raves to Bubstep
---
From Our Partners:


Eva Longoria Bikinis on Spring Break (Celebuzz)


33 Child Stars: Where Are They Now? (Celebuzz)