David Bowie Teases New Single, Proves He's Still Incredible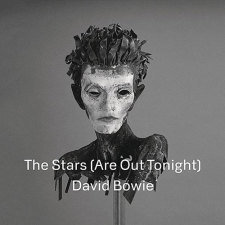 At a certain point, it becomes difficult to continue idolizing some classic artists. Eventually, they lose touch or "go soft," delivering music that's pleasant but lacks the edge that made them so incredible in the first place. David Bowie is not one of those artists. The musician released the teaser art for the next single off of his upcoming album, The Next Day, on Facebook and if the visual is any indication, we're looking at another fantastic single.
Just last month, Bowie released "Where Are We Now?" to thunderous praise for both the song and the accompanying music video, which was a dark, thoughtful accompaniment to the intense, contemplative single. Now, he's teasing the release of "The Stars (Are Out Tonight)" with a image of an unfinished, seemingly primitive bust of Bowie's image as a young man, not unlike his portrait on the famous cover for his 1973 album Aladdin Sane.
RELATED: David Bowie Releases New Single "Where Are We Now?"
Bowie's whole approach to this new album is one that references his younger self; the album cover alters the original album art for Heroes and the single "Where Are We Now?" hearkens back to his time in Berlin during the 1970s. It's a promising thought as more of the album is released: Bowie's new art doesn't forget the foundation on which it was built — in fact, it depends on it. As such, the release of "The Stars (Are Out Tonight)" can't come quickly enough. 
The big reveal happens Feb. 25, until then, we can keep culling more meaning from the first single off the album and contemplate all the ways The Next Day will be a fantastic addition to Bowie's extensive catalog.
RELATED: Tim Tebow Plus David Bowie Equals Tebowie – VIDEO
Follow Kelsea on Twitter @KelseaStahler
---
From Our Partners:

Kate Upton Bares All in Nothing But Body Paint: Video (Celebuzz)

Bradley Cooper Dancing Is Surprisingly Awkward, Sweaty (Vh1)