Dax Shepard's Blog Post About His Late Father Is An Emotional Wallop And An Unforgettable Read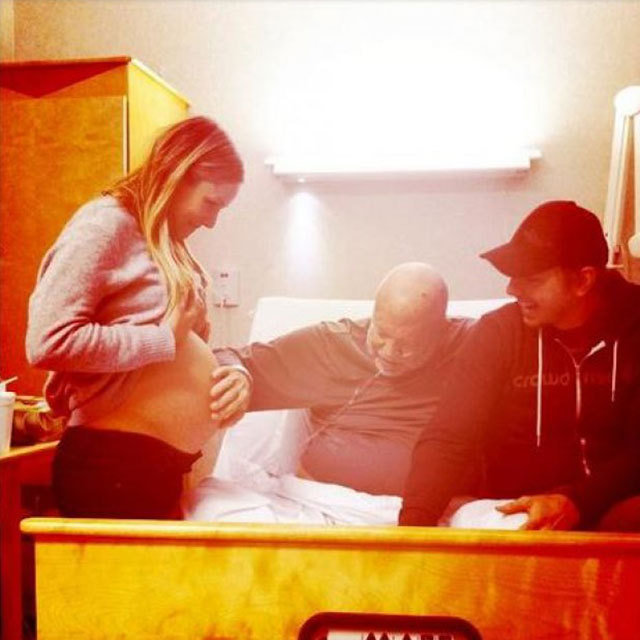 All right, readers. Prepare yourselves. Because this one is a doozy. In fact, if you don't feel like having yourself a good old fashioned Friday late afternoon cry, you might want to turn away now. But if you're game to read one of the most emotionally honest and intimate blog posts from a person — celebrity or otherwise — then keep going. It's worth the lump in your throat, or cascade of tears, that is inevitable to follow reading. 
Dax Shepard — he of Parenthood, Idiocracy, and yes, Punk'd — recently took to his Tumblr to post an emotional, funny, honest, and downright loving tribute to his late father Dave Robert Shepard, Sr., titled "My Father's Horniness." Shepard's father passed away at the far-too-young age of 62-years-old on December 31, 2012. "Small cell carcinoma was to blame," the actor notes. 
Shepard shares some amazing insights (his late father was "a proud member of Alcoholics Anonymous for over 25 years"), seriously delightful memories and hilarious anecdotes about his dad ("He loved to eat. Holy s**t could he eat… Nothing in the pantry was safe. He would come up with the most counter-intuitive combinations of food. Like a true alchemist, he'd put salsa on oatmeal, or smother frozen waffles with a can of black beans").
RELATED: Kristen Bell and Dax Sheppard Expecting Their First Child
But there's one particularly moving passage of the entry about Shepard's significant other Kristen Bell — who is expecting their first child this spring — surprising him and her ailing father-in-law at the hospital. Don't say that I didn't warn you that this one hits hard: 
"The next day I showed up to the hospital to find that he had taken a very sharp turn for the worse. It was not what I was expecting. I had let myself believe that the fun we had the day before was some kind of magic antidote. I half expected to see him eating a full breakfast when I walked in, but instead he was dazed and motionless. He could no longer sit up on his own, and talking was proving to be too much for him. So we sat quietly. I climbed in the bed with him and rubbed the little hairs on the back of his neck. I squeezed him. I'd never seen him so cute and little. He was a 250 pound baby. We spent most of the day that way.
At one point, and unbeknownst to both of us, my wife walked into the room. She had flown in from LA without any warning. It was a surprise. It was an amazing, incredible, perfectly timed surprise. She lifted her shirt up and he put his hand on her swollen stomach. He left it there for the better part of an hour. He was smiling from ear to ear, sitting contently, unable to put together a sentence, but still capable of connecting to the new family member we were creating. He wasn't going to make it to the birth, but that didn't get in the way of him meeting the new baby. It was an emotional and triumphant moment. One I will never forget. If I live to be a thousand, I will still be in debt to my wife for giving him that one last thrill."
RELATED: Justin Timberlake's Moving 'Mirrors' Video Is a Tribute to His Grandparents
No, there's nothing in my eye… except buckets and buckets and buckets of tears. And good god, look at that picture. How unbeliavably wonderful. For anyone who has lost a parent, the post will hit the always raw nerve. Shepard's willingness to share fond memories of his dad likely not only helped him with his own healing process, but will help countless others handle their own grief. But, really, this will have an impact on anyone who has loved, lost, or both. This is a testament to all those things, and a beautiful reminder of how precious life is, to enjoy all the moments. Dax, your papa would have been damn proud of you for this. 
[Photo credit: Daxtumbler.tumblr.com]
---
You Might Also Like:


15 Oscar-Winning Nude Scenes


Young Jack Black Is Totally Unrecognizable