Deadmau5 Proposes to Kat Von D on Twitter, Kat Von D Accepts on Twitter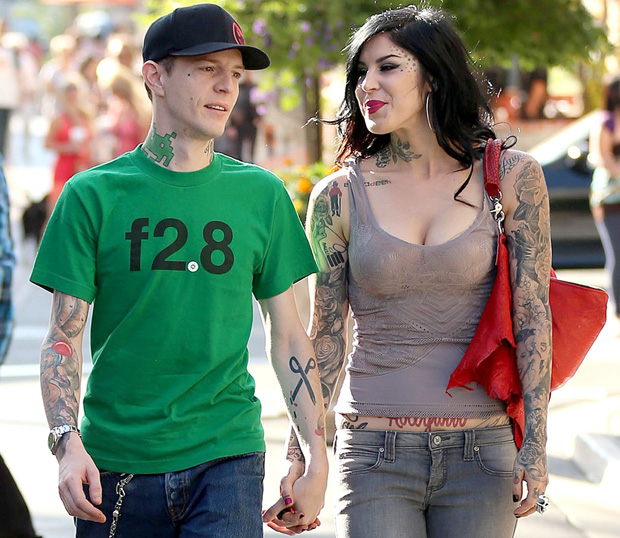 RT if you fear our future lack of interpersonal skills! Deadmau5 took to Twitter Saturday to propose to L.A. Ink star Kat Von D, the musician's girlfriend of three months. Just one month after the couple tweeted about their short-lived break-up, Deadmau5 posted on Twitter:
I can't wait for Christmas so…. Katherine Von Drachenberg, will you marry me? @thekatvond twitter.com/deadmau5/statu…
— deadmau5 (@deadmau5) December 16, 2012
Seems despite their short relationship, Von D is ready to make it as permanent as a new tattoo. After Deadmau5's tweet, Von D responded on Twitter:
Mi corazon!!! Thank you all for the lovely congratulations! Please excuse me while I go squeeze the hell out of my fiancé! ?
— Kat Von D (@thekatvond) December 16, 2012
This will be Von D's third engagement and second marriage — the reality TV star, who was previously married to Olivier Peck, was briefly engaged to Jesse James in 2011. This will be Deadmau5's first marriage.
[Image Credit: WENN]
More:
Kelly Clarkson Gets Engaged, Tweets Ring Photo: Cue "Moment Like This" Jokes! — PIC