Dear Bravo, It's Time to Make LeAnn Rimes a Real Housewife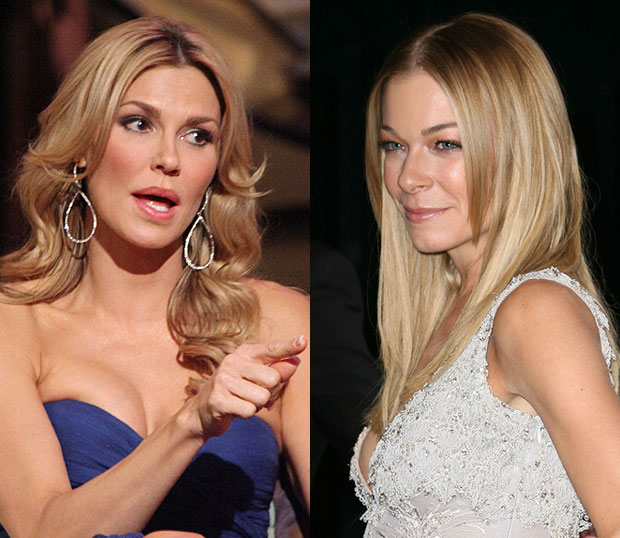 If you had the choice between watching two stars duke it out in person week after week or watch them have passive aggressive words on Twitter every so often, which would you choose? The televised version of Celebrity Hunger Games of course. That is why it is time for arch rivals Brandi Glanville and LeAnn Rimes to take their long-standing feud off of Twitter and put it in the real world. How can we make this happen and make something out of it that would be a television landmark for generations to come? Why, by putting LeAnn on the Real Housewives of Beverly Hills, of course.
LeAnn, famously, started sleeping with her current husband, talking washboard Eddie Cibrian, while he was still married to Brandi, currently the lovably raging id of the best version of Bravo's keystone franchise. Their Twitter animosity rose up to the surface when LeAnn said she was happy to be spending the weekend with "her boys," meaning Eddie and Eddie and Brandi's two sons. Brandi launched back that they are not "her boys" they are Brandi and Eddie's boys and she is just a step mother. The venom that is just below the surface with these two is completely palpable. They absolutely seem to loathe each other but they have to get along for the children's sake. This sounds like just the kind of explosive relationship that should have cameras around it while it's happening. Please? Pretty please? Just think of the ratings of watching a tabloid story happen in real time.
It makes no sense why great guffawing god of programming Andy Cohen hasn't dropped his laughing gas mask and signed LeAnn for a contract to be on the show with Brandi. It's not like she has anything better to do. It would be a great platform to get her back into the public eye, sell her records or Lifetime movies or sheet collection at Kohls or whatever, and tell her side of the story. And it's not like the Real Housewives is an honor-bound institution that is above ruining a family so that screech monkeys will throw their feces at each other. Look what they've done to the Gorgas and Guidices at their New Jersey outpost (which still earns less than most New Jersey outposts of the Cheesecake Factory). What is keeping this from happening?
This thing already has all the makings of a Real Housewives episode. They're always bitching at each other about who said what in the press, who has more Twitter followers and what she says to them about the other, and how something said in a blog can create a whole season worth of drama. Oh, Housewives. The only reason they have new technology is so that they can find new ways to go to war with each other. Brandi is already talking about LeAnn on the show all the time, why can't we get here there to wag her finger in Brandi's face the way a Real Housewife should? The best way for LeAnn and Brandi is if we see it. We've heard about it, we've read about it, and some of us have even Twittered about it, but now it's time for the cameras. These ladies are already in the public eye, let's just make it a little bit more overt.
And, for the record, #TeamBrandi for the win!
Follow Brian Moylan on Twitter @BrianJMoylan
[Photo Credit: Bravo/WENN]
More:
'Real Housewives of Beverly Hills' Recap: Brandi Glanville Gets in a Snifter
LeAnn Rimes Sues Two Women For Recorded Phone Call
Brandi Glanville Admits That She 'Wanted to Kill' LeAnn Rimes at Soccer Practice

Inside 'Bachelorette' Stars Ashley Hebert and J.P. Rosenbaum's Wedding — EXCLUSIVE DETAILS

Mario Lopez, Courtney Mazza's Wedding Pictures Revealed!