Dear LeAnn Rimes: Stop Talking About Your Affair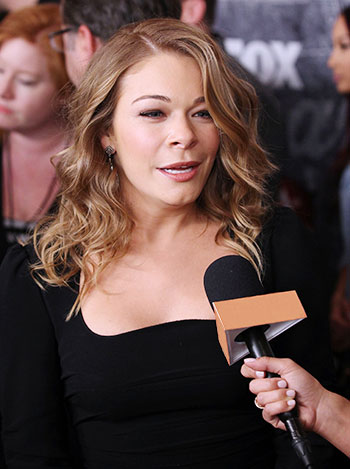 Whatever happened to that wide-eyed, innocent, barely adolescent country girl who released the song "Blue" and shocked the world with her soulful voice? She turned into LeAnn Rimes. Sorry, let me clarify: she turned into the husband-stealin', Twitter-feudin', Real Housewife-hatin' LeAnn Rimes we know today. Sometime between 1996 and 2013 (okay, 2009), the spotlight on Rimes shifted from her incredible talent to her deplorable romantic choices. So much so that now, with a new album on the horizon, Rimes is still spending interviews talking about her infamous extramarital affair with her now-husband Eddie Cibrian.
Rimes sat down with Entertainment Tonight's Nancy O'Dell for an interview to promote her upcoming album Spitfire, due in Spring 2013. The conversation, however, rarely strayed from her infidelity. "Being that you've been honest that you've ever had an affair, do you ever worry about him cheating on you?" O'Dell asks. Rimes literally gawks — we're talking eyebrows pinched, head jerked back — at the question before saying, "I would be ignorant to say, and everyone else would think I am a liar if I didn't say yes, and I have at times."
When the two finally got around to talking about Spitfire — sorry, just kidding! They didn't talk about Spitfire; they talked about the one song on Spitfire that was written about an affair. But not Rimes' affair, it was about a friend's affair. "'What Have I Done' is one of the first songs that I wrote for the record, before anything was actually starting to happen," Rimes says. "It was written about a friend of mine, but I didn't realize I was writing it for myself at the time… It was my subconscious talking and I didn't know yet." Uh-huh, sure, LeAnn.
Okay, let's throw Rimes a proverbial bone and decide to believe the song was really about a friend. Because the subject of the song is not really the important thing here, it's the subject of the interview — and of every interview — that is so bothersome. The heart of the matter is that LeAnn Rimes loves to talk about her affair. And she needs to stop. She really, really needs to stop.
Continuously bringing up her affair is, at the very least, tacky and classless. And at the most, it is incredibly painful. Affairs are wretched things. They tear apart families, they deeply wound those you once love, and they make it incredibly difficult for the perpetrator to regain the trust of those close to them. Does Rimes consider her ex-husband, Dean Sheremet's feelings? Does she feel remorse for the pain she inflicted upon another woman, Cibrian's ex-wife Brandi Glanville? She must not, because if she did, she would be much more reluctant to absolve herself of blame. Affairs are messy, humiliating, and heartbreaking — for everyone involved. So then, why does Rimes insist on discussing hers?
While reporters may continue to question Rimes about her romantic past — and we know they will, as juicy cheating headlines make for clicky articles — no one is forcing Rimes to answer the way she does. Instead of providing sordid admissions such as, "Speaking for [Eddie], I would actually say [the thought of me cheating] has creeped into his mind," Rimes could choose to plead the fifth. To say, calmly and maturely, "You know, this was a very painful situation for many people. I would like to respect their privacy and let it go." And that would be that.
Rimes' ET interview is below. May it be the last time she talks about her affair (please, please, please….).
Follow Abbey Stone on Twitter @abbeystone
[Photo Credit: Judy Eddy/WENN]
More:
Remember That Time LeAnn Rimes Was Famous For Singing? We Can't Either.
Brandi Glanville Quits LeAnn Rimes Twitter Feud Just As It Gets Annoying
Dear Bravo, It's Time to Make LeAnn Rimes a Real Housewife

The Cutest Celebrity Kids! (Celebuzz)