Demi Lovato Talks About History with Drugs: Will Her Mistakes Weigh Her Down?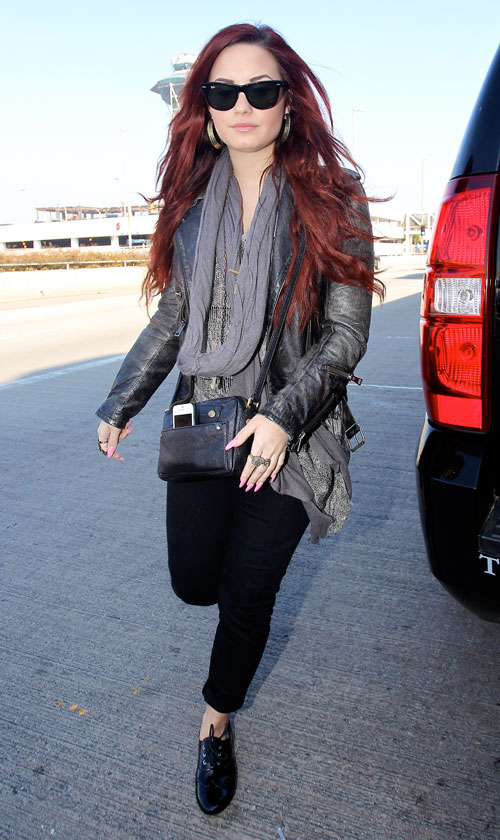 Demi Lovato has made great strides in her life over the past few years both personally and professionally. Not only has she just released a new music video for her hit song, "Give Your Heart A Break," but she's also currently touring in South America. The 19-year-old star, who spent three-months in rehab in November 2010 (to treat physical and emotional issues including cutting, bulimia, and bipolar disorder) has been looking better than ever. But, in a recent interview with Fabulous magazine, Lovato opens up about her battle with drugs. The question is now, will Lovato be able to continue down this healthy path?
"What I can say is that I was depressed," Lovato tells the mag. "I would come off stage in front of 18,000 people and suddenly be alone in a hotel room. I'd come crashing down and would try to find a way to recreate that feeling, to stay 'up.'"
Because of her celebrity status, it was easy for Lovato to get the drugs. "Promoters gave me drugs and alcohol in restaurants or clubs," she admits. "They wanted me to come back so I would be seen there."
Like Lovato, many childhood stars have fallen into the cracks of substance abuse simply to cope with the constant fame and on-going media scrutiny. Though she's never been quite as candid about her personal drama, Lindsay Lohan let her partying ways completely change the course of her image. The Parent Trap star left her childhood behind as she faced court battles and time behind bars. Now, Lohan supposedly is trying to get back on track. But, she has yet to fully convince her fans that she's in a good place.
Drew Barrymore handled her past very differently from Lohan. Here's a girl who grew up in the public spotlight and started dabbling with drugs and alcohol at an early age. For a while, Barrymore seemed lost — but when she decided to come forward and genuinely apologize for her past actions, the public showed a great deal of sympathy. Now Barrymore has grown up to become a well respected member of the Hollywood community, who is thought of more for her acting talents than her past misdemeanors.
Like Barrymore, Lovato seems to be on the path to redeeming her career and living a fulfilling life. But, it's up to her fans to accept her apology. Do you think her honesty earns her more credibility — or does she still have a lot of explaining to do?
More:
Demi Lovato Tells 'Seventeen' She Used Drugs and Alcohol To Self-Medicate
Demi Lovato Defends Her Healthy Weight at VMAs
[Fabulous, Photo Credit: Wenn.com]