Demi Moore Is Dating A 26-Year-Old: Hurrah for Equal Opportunity Cradle Robbing!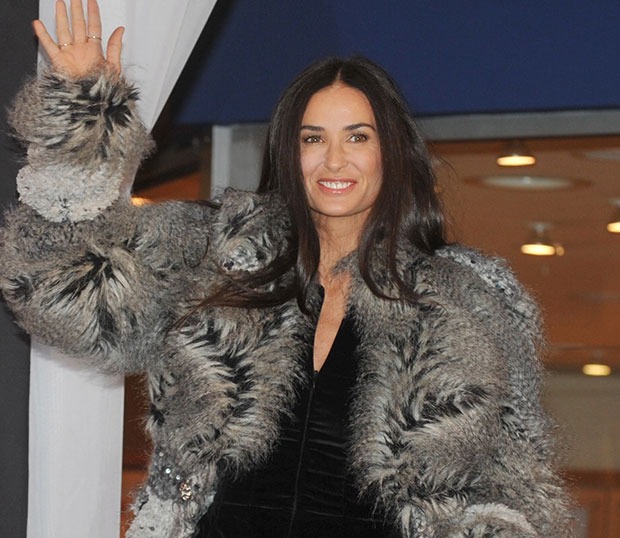 When news broke today (thanks, New York Post!) that Demi Moore has been caught canoodling with yet another much-younger man, the general response was, "Meh, okay." And with that, we have closed the book on the stigma associated with women dating younger men — I hope.
According to the Post, Moore — who is now 50 — has been spending a great deal of quality time with 26-year-old art dealer Vito Schnabel. A spy for the paper (not as exciting as it sounds) reports the two attended Naomi Campbell's 50th birthday party in India, during which, "They were dancing and grinding all over each other, openly, in front of other guests." One of People's nightlife sources backs the claim, saying, "It's really happening… There was a time when Vito was kind of cool with [her ex Ashton Kutcher] — so it seems a little weird."
Not weird, however, is that her new beau is nearly half her age. Maybe it's just that Moore's last long-term relationship was with a man 16 years her junior, but the collective response to this news has been much more "Good for her!" than "Ewww, gross!" I'd chalk this reaction up to Moore's seeming inability to age (seriously, does she have a haunted portrait hiding in an attic somewhere?), except that it seems to be a trend. With divas like Mariah Carey, Jennifer Lopez, and Madonna all shacking up with men at least a decade younger, powerful women and their boy toys have become ubiquitous. 
Dare I hope that the growing prevalence of this trend signals a greater acceptance in our society of May-December relationships in which the lady is older? While it was once considered obscene for a woman to date a younger man, it now seems just regular creepy. A man with a trophy wife is still greeted by eye rolls, but it's pretty much par for the course at this point. And now, as "cougar" becomes a staple in our modern lexicon, its derogatory subtext is beginning to fade away.
A woman in her prime with a twenty-something hunk on her arm is no more scandalous than an aging millionaire with his Playboy Bunny. Of course, it's still a little weird for all the reasons old men/young lady couplings are nose-scrunch-worthy (for example, Schnabel is nearly the same age as Moore's 24-year-old daughter Rumer Willis), but it's nothing earth-shattering. And isn't that the definition of progress? When something that was once unheard of — like women wearing pants or joining the work force — becomes not only mundane, but expected? I've always said, true equality for women will only be achieved once we take ladies off the pedestal and view them in the same light as we do creepy old men.
Follow Abbey Stone on Twitter @abbeystone
[Photo Credit: WENN.com]
More:
Never Ever Do the Naked Pregnant Demi Moore Pose Ever Again Ever
Demi Moore Looking To Change Her Twitter Name
Bruce Willis Urged Demi Moore To Seek Help Prior To Hospitalization
You Might Also Like:

Cory and Topanga Are In! Big 'Boy Meets World' Spinoff News