'Details' Wants to F**k These Stars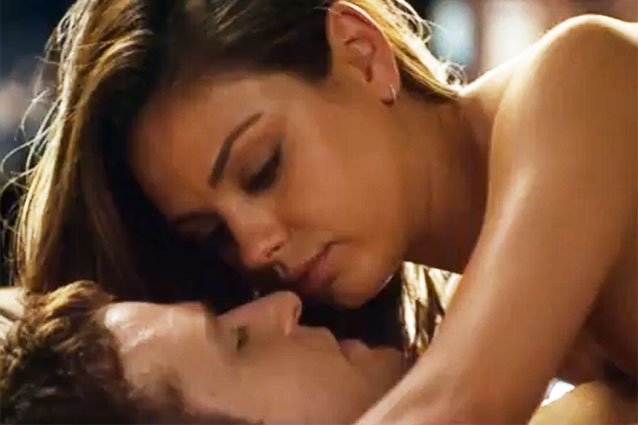 The Internet has never been known for its class factor, but Details proves itself only a miniscule step above the likes of Vivid Entertainment with its list of The 10 Most F**kable Celebrities.
Yes, yes, it's just a word. But there's something invasive and assaulty about "fuckable" in this context. (And I say this as a fan and frequent casual user of the root word, "f**k.") First, there's the one-way objectification of it — it is something you do to someone, and the word contains no implicit consent. Worse, there's the crude judgment it signifies — you are worthy of sexual attention, you are not. It's basically "I would hit that" in a single, even grosser word.
Interestingly, the "winners" here seem to have been determined in a poll asking readers which celebrities most appear in their sexual fantasies. Somehow, (even if this is not the height of journalism) this seems much less violent. Being the subject of someone's fantasies, while it might make you feel a bit uncomfortable, does not evoke quite so much unwelcome action. Why not just "Sexiest Celebrities" or "Celebrities You Fantastize About"?
While I applaud the gender-neutrality of the list — it includes both women and men (congrats, Ryan Gosling and Mila Kunis!) — expressing unsolicited desire for male stars as well as female ones in strangely aggressive terms doesn't make it any better.
This seems to be part of a possible trend this week, with Vivid Entertainment and XCritic.com telling us, apropos of nothing, that their users have voted and would really enjoy a Jennifer Lawrence sex tape. It matters not a jot what these people want, nor which high-profile people Details readers do not know but wish to bed. We've always seen our celebrities as sex objects, but maybe let's tone down this Sexual Harassment by Internet Survey, okay?
Hollywood.com correspondent Jennifer Keishin Armstrong is the author of Sexy Feminism and Mary and Lou and Rhoda and Ted, a history of The Mary Tyler Moore Show, due out in May. Visit her online at JenniferKArmstrong.com.
Follow Jennifer on Twitter @jmkarmstrong 
More:
The Internet Really Wants a Jennifer Lawrence Sex Tape  
Mila Kunis & Jennifer Lawrence Battle to Be America's BFF 
Kristen Stewart Tops List of Celebs Brits Don't Want to Bone 
---
From Our Partners:


Eva Longoria Bikinis on Spring Break (Celebuzz)


33 Child Stars: Where Are They Now? (Celebuzz)